Eli Manning....

O
Points)
on 11/21/10 at 11:49pm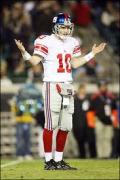 Just needed to put up a post venting my frustration towards Eli Manning and what a bonehead he is. I am a die hard Giants fan but that was one of the most moronic plays to lose a game I have ever seen in my life.
For those who didn't see. He ran to pick up a first down with about 4 minutes left in the game and rather than sliding safely, he managed to fumble the ball while tripping over his own feet completely untouched...