EY Advisory, chance to get outta BO but low pay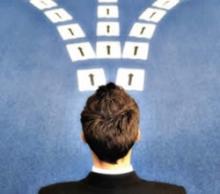 So been doing MO role at a BB for close to 3 and half yrs now (I mostly did Product Control and Valuation Control at a top BB and doing PC now at a low BB). I am currently 25, and I make close to 97k/yr. Kinda got sick of this job and want a career change as I don't want to get pigeonholed into back office forever, and recently got an offer at EY Advisory (Not TAS).
Although the job seems more interesting (not the best consulting firm, I know) but the problem is that the pay is low. I will be making like 55k. I still have interviews at other places that may pay better, but at the moment this is the only offer I have.
Do you guys think its worth it to make the switch? Would exit opps at EY Advisory be much better than BB MO? I absolutely hate my current job and work environment and want out but don't want to get out for the sake of getting out as this will be my third company (want to stay for at least 3 yrs as I don't want to look too jumpy on my resume).
I also have the option to go to LSE for my MSc Accting and Finance in sep next yr, but dunno if this is the best option given my wrk experience and how shitty the economy is (finding a job would be a bitch).
Please advise.
Thanks.
The WSO Advantage - Investment Banking
These 6 FREE Financial Modeling Lessons
Can Help You Land Your $100k+ Dream Job
Our Fun Excel Training and Challenge Contest
DCF Modeling, Tons of Free Templates & Video Tutorials
Valuation Lesson on Trading Comps
Cash Flow Modeling and more!
I would normally sell this for at least $200, but we're offering it for free as a sweet bribe to join our community of 350,000+ members. See you on the inside!
Lazy? Join us and get the 6 free lessons with 1 click below!
6 Free Financial Modeling Lessons...and More.
Enter e-mail to get our Modeling Tutorials (Worth $200+)
Upcoming Events
Oct 10 2015 - 8:00am

to

Oct 11 2015 - 8:00am

Oct 10 2015 -

1:00pm

to

2:00pm

Oct 11 2015 - 8:00pm

to

Oct 12 2015 - 9:00pm

Oct 14 2015 - 8:00am

to

Oct 15 2015 - 8:00am

Oct 14 2015 -

6:00pm

to

7:00pm
Poll
Long term, which career path interests you the most?
Accounting
0%
Asset Management
7%
Commercial Banking
1%
Consulting
5%
Corporate Finance / Strategy / Development
8%
Entrepreneurship
6%
Equity Research
4%
Fintech
2%
Hedge Fund
21%
Investment Banking
10%
Investment Advisor / PWM
1%
Private Equity
17%
Prop Trading
1%
Real Estate
5%
Sales & Trading
3%
Venture Capital
5%
Other Finance Role (academia, non-profit, government, legal, etc)
1%
Other - Non Finance
2%
Total votes: 494