Giving thanks...
IB
Points)
on 11/22/12 at 7:30am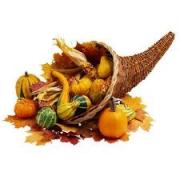 Starting to get my head above water- having just come of out a fairly traumatic, life changing summer - I am a different man. To be honest I am dealing with a fair amount of PTSD from it. Being in the room when another baby passed... not to mention my own daughter's life/death experiences... I just can't shake it. But I can deal with all of that. I have to.
My entire value set has changed: I look at family differently, I look at work differently, I no longer find satisfaction in material goods (anyone in the market for a Milgauss GV? PM me)
That being said, I'm going to try and get a little more active on the boards- not with my typical finance snark, but rather with some insights I've gathered over the past summer. It may not be terribly deep stuff, but it's what I came away with.
Money and power.... Money and power.... It's our "life" 90 hours a week. But life is so much more than that, monkeys. So this thanksgiving, try to forget the spreads, the decks, the MDs and the fire drills. All that shit will get dealt with, but we have precious little time with what really matters in life, family.
Here are a dozen things that I am thankful for this year:
I am thankful my daughter is alive, and has a shot at leading a normal life.
I am thankful for my wife, the strongest woman I know. She has stood by my side through thick and thin, and I am grateful for her.
I am thankful for my family, whose support was unwavering even though I absolutely flipped shit on tj during the 'dark days'.
I am thankful for all of the people, hundreds upon hundreds of total strangers, who followed lily's story and sent good vibes and prayers her way. They worked a miracle.
I am thankful for miracles- which do exist.
I am thankful that I was born in America, the country with more opportunity than anywhere else in the world. I could have easily been born in Sudan. Sheer luck that we're here- and I am thankful for that.
I am thankful that I have a roof over my head, and can feed myself and my family.
I am thankful for my health, and I am thankful for my family's health.
I am thankful that I am gainfully employed.
I am thankful that I can feel safe when I travel to work every day.
I am thankful for the public servants that serve our great city.
I am thankful for our men and women in service at home and abroad. Their volunteering to fight for my country lets me have a cushy desk job.
That's what I'm thankful for this year. What about you?
Wishing you all a very, very happy thanksgiving. Thank you wso for your support this past summer and fall. It has been truly amazing- it helped keep me going - and I am thankful for it.
Tags: