Glasses of Choice: Oliver Peoples O'Malleys

IB
Points)
on 3/31/11 at 10:42pm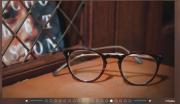 Tomorrow I'm going to buy some Oliver People O'Malleys as part of their vintage re-release. Some of you may recognize them as the glasses Patrick Bateman wears in the movie "American Psycho." I think they'll probably make me look more hipster than banker, but oh well.
So, now that those will be my glasses of choice, what kind of frames do you wear? And in that vein, what sort of frames do you think are best for work? I know some people who have "weekend" glasses and "work" glasses.
PS. Props to anyone else buying these, by the way. Oliver Peoples is always a great choice.