GULP. Unemployment well ahead of projections
ST
Points)
on 6/5/09 at 8:48am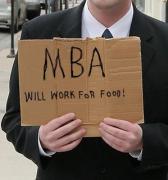 Jobless claims numbers were just released, and it appears the worst-case-scenario projected by the Fed for 2009 was rose-colored optimism.
For the purposes of the TARP stress tests, the banks were told to assume a worst-case-scenario unemployment figure of 8.9% by year end 2009. The figures just released peg unemployment at 9.4% currently, and the year isn't even half over.
Worst-case-scenario projections for year-end 2010 were 10.3%. Anyone want to guess when we'll hit that number?