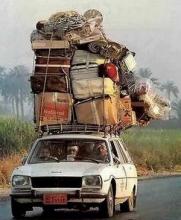 My boyfriend is going to HBS next year (he got admission for this academic year, but deferred till next year because of work) and we're saving up for b-school now. I'm going to transfer to my firm's Boston office. On my income and his savings we could live very comfortably, but since b-school is so expensive most of the money is going into that.
Where do HBS students live to save money but get decent apartments? Most of the people I've spoken to live on campus in dorms, or they live in university housing on Western Ave. But from what I've heard, it's a very "campus" feel and it's not like you have interesting restaurants or music venues right on your doorstep. We're moving from New York, so we definitely don't want to constantly be in a campus environment.
Are there places in Allston that are affordable and where you can find decent-sized 1-bedroom apartments? Or is it just a better deal to live in university housing? Do people tend to prefer Allston or Cambridge?
The WSO Advantage - Land Your Dream Job
Upcoming Events
Jul 4 2015 - 8:00am

to

Jul 5 2015 - 8:00am

Jul 5 2015 - 8:00am

to

Jul 6 2015 - 8:00am

Jul 5 2015 -

4:30pm

to

5:30pm

Jul 6 2015 - 8:00am

to

Jul 7 2015 - 8:00am

Jul 6 2015 -

7:30pm

to

8:30pm
Poll
What's your current monkey status?
In undergrad
37%
Recent grad, looking for work
7%
In a graduate program (MBA, MSF etc)
7%
Recent MBA/MSF or equiv graduate, looking for work
2%
Currently work full time in finance, 0-5 years
35%
Currently work full time in finance, 5+ years
3%
Currently work in another field
6%
Quit finance / left by choice / retired
0%
Recently laid-off from a finance position
1%
Other (in high school, actual monkey, etc)
2%
Total votes: 322