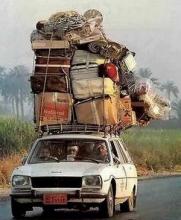 My boyfriend is going to HBS next year (he got admission for this academic year, but deferred till next year because of work) and we're saving up for b-school now. I'm going to transfer to my firm's Boston office. On my income and his savings we could live very comfortably, but since b-school is so expensive most of the money is going into that.
Where do HBS students live to save money but get decent apartments? Most of the people I've spoken to live on campus in dorms, or they live in university housing on Western Ave. But from what I've heard, it's a very "campus" feel and it's not like you have interesting restaurants or music venues right on your doorstep. We're moving from New York, so we definitely don't want to constantly be in a campus environment.
Are there places in Allston that are affordable and where you can find decent-sized 1-bedroom apartments? Or is it just a better deal to live in university housing? Do people tend to prefer Allston or Cambridge?
Upcoming Events
May 29 2016 (All day)

to

May 30 2016 (All day)

Jun 1 2016 - 8:00am

to

Jun 2 2016 - 8:00am

Jun 8 2016 - 8:00am

to

Jun 10 2016 - 5:00pm

Jun 11 2016 - 8:00am

to

Jun 12 2016 - 8:00am

Jun 15 2016 -

7:30pm

to

8:30pm
Poll
Who is your favorite Hedge Fund manager?
Bill Ackman
13%
Steve Cohen
8%
Ray Dalio
17%
Ken Griffin
7%
Carl Icahn
10%
Jim Simons
4%
George Soros
9%
David Tepper
6%
David Einhorn
9%
Seth Klarman
8%
Other / None of the above
7%
Total votes: 565