How Do I Become Better Than Other People?
O
Points)
on 10/27/11 at 8:01pm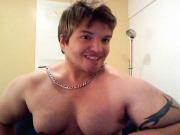 Lacking in any inner charm or substance, I need to feel superior to other people through my choice of servitude. What kind of master should I grovel to in order to become superior to more well-adjusted people? How do I please this master? What kinds of schools should I attend to win the attention of the most prestigious masters? Is a 3.6 GPA high enough? What kinds of suits should I wear when supplicating to prospective masters for employment? Is it OK to wear bit loafers?