How do people in IBD manage their stress? and a life balance?
No Industry Selected - No Status Selected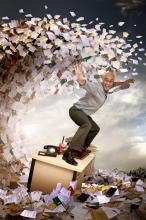 Repeating Excel stuffs..
Trying to make a pitch book more beautiful..
Few days without working late nights..
Getting pressures from either a boss or VPs..
I'm wondering how do the people in IBD manage such a lot of stress.
There of course, is several compensations including a strong will for promotion, relatively high salary, respect from other people, and (maybe) interest for his/her job..
But considering the lack of time, it seems that IBD people are impossible to do other things for their own lives. I don't think the compensations listed above can help bankers get rid of their stress completely. Is their other way that IBD bankers relieve their stress?
And besides, how can they live without a balance on their lives?
There is no time for other activities, they just have time for work and sleep(and a bit of time for their meals).
The WSO Advantage - Investment Banking
Upcoming Events
Nov 29 2015 - 8:00am

to

Nov 30 2015 - 8:00am

Nov 29 2015 -

4:00pm

to

5:00pm

Nov 30 2015 -

8:00pm

to

9:00pm

Dec 2 2015 - 8:00am

to

Dec 3 2015 - 8:00am

Dec 2 2015 - 8:00am

to

Dec 4 2015 - 5:00pm
Poll
Long term, which career path interests you the most?
Accounting
1%
Asset Management
10%
Commercial Banking
1%
Consulting
4%
Corporate Finance / Strategy / Development
9%
Entrepreneurship
6%
Equity Research
3%
Fintech
2%
Hedge Fund
18%
Investment Banking
9%
Investment Advisor / PWM
1%
Private Equity
16%
Prop Trading
2%
Real Estate
6%
Sales & Trading
3%
Venture Capital
6%
Other Finance Role (academia, non-profit, government, legal, etc)
1%
Other - Non Finance
2%
Total votes: 1208