No Industry Selected - No Status Selected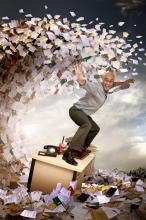 Repeating Excel stuffs..
Trying to make a pitch book more beautiful..
Few days without working late nights..
Getting pressures from either a boss or VPs..
I'm wondering how do the people in IBD manage such a lot of stress.
There of course, is several compensations including a strong will for promotion, relatively high salary, respect from other people, and (maybe) interest for his/her job..
But considering the lack of time, it seems that IBD people are impossible to do other things for their own lives. I don't think the compensations listed above can help bankers get rid of their stress completely. Is their other way that IBD bankers relieve their stress?
And besides, how can they live without a balance on their lives?
There is no time for other activities, they just have time for work and sleep(and a bit of time for their meals).
Upcoming Events
May 24 2016 - 8:00am

to

May 25 2016 - 8:00am

May 29 2016 (All day)

to

May 30 2016 (All day)

Jun 1 2016 - 8:00am

to

Jun 2 2016 - 8:00am

Jun 8 2016 - 8:00am

to

Jun 10 2016 - 5:00pm

Jun 15 2016 -

7:30pm

to

8:30pm
Poll
Who is your favorite Hedge Fund manager?
Bill Ackman
12%
Steve Cohen
7%
Ray Dalio
17%
Ken Griffin
8%
Carl Icahn
10%
Jim Simmons
5%
George Soros
10%
David Tepper
6%
David Einhorn
9%
Seth Klarman
9%
Other / None of the above
6%
Total votes: 458