How should I Acquire Knowledge
Points)
on 7/19/12 at 5:07am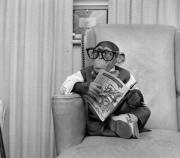 Hi WSO,
I am a math major at a target school, rising Junior. For the first two years took mostly pure math, some CS, and humanities classes. Took a little econ as well.
I've managed to get a 3.96 gpa, which I can make stable since I've already taken most of the hard classes I need (basically I could take mostly easy classes if I needed to guarantee a high gpa).
Due to various reasons, I am now prepared to give up the "life of the mind," so to speak. I want to get into finance but don't want to do investment banking (the 100+ hour weeks of mindless work that I keep reading about would be too much for me). I also do not want to become a specialized quant who just crunches numbers.
Reading about hedge funds, it seems like one has more room to use his brain at work (correct me if I'm wrong).
However, I have extremely little knowledge of finance. I've done some personal investing but honestly my decisions were based on weak logic and gut feeling. I have read some of Benjamin Graham's The Intelligent Investor. I had fun investing and making some lucky profits but it was based on nothing rigorous.
Since my decision to pursue this path is a recent one, I have no finance internships or clubs involvement to speak of. Basically I know what stocks, bonds, and mortgages are and obviously I can do math.
Therefore, I feel like to demonstrate interest, I should learn as much useful information as possible. I am prepared to work really fucking hard and learn all the stuff I need to.
I'm posting on this forum because I'm not sure what sources of info to read, what books to read, and how I should better understand the market. I don't want to waste my time learning bullshit. For example, I'm sure that taking several more econ classes where all we do is draw graphs and take derivatives would count as useless for finance.
Should I read the Wall Street Journal every day? Go back to personal investing? Study more financial math?
Thank you all in advance.
TLDR: College student with no finance background wondering what things to read and what knowledge is worth acquiring for the industry or useful to have for interviews.