If I took Adderall in HS I wouldve gone to an Ivy

EN
Points)
on 7/7/12 at 1:00pm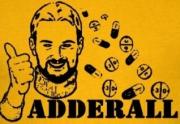 I'm 26 and was recently legitimately diagnosed with ADD and after taking Adderall now for a couple months I am getting projects done 3x more efficiently than before, my concentration bursts are 5x longer (used to get distracted every 5 minutes, now I can sit and focus on the thought process of a project for ~45-60 consecutive minutes no problem).
Now I may not have gotten into Harvard, but if I had had this diagnosed sooner and started taking something back in HS I wouldnt have ended up at no-name state U.
Yes hard work is a HUGE part of getting into a top school, but having a clinically diagnosed problem (some form of ADHD) does put one at a proven disadvantage, imo.
I've still done pretty good for myself, but shit wouldve been a lot of easier and there's probably a few more BIG projects I couldve accomplished by now.
I think when prescribed / used properly - Adderall can work wonders.
**Update: Please read further as I've clarified some things in the comments below**
Tags: