Is Anyone Trading Corn/Soybeans?

Points)
on 7/11/12 at 5:00am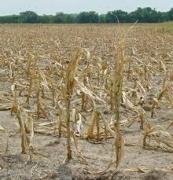 I've been lightly following the drought for the past few weeks and want to know how its affecting people who actually make (or lose) money on nature. I believe I read that it is one of the worst droughts since the 90's, with something like 40% of the corn crop in good condition.
Is anyone trading in these markets right now? Are you making a killing? Or getting killed? What is the general sentiment among other traders right now?
I'm assuming, because almost everything we eat in the US is a corn/soybean derivative (unless you eat mostly organic), that general food prices will inflate in the next 6 months or so. Can anyone with more knowledge confirm/deny my assumption?