Jedi looking to Lateral into IBanking
?
)
on 11/18/12 at 7:30am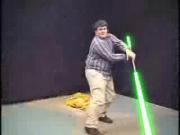 mod note (Andy): this was originally posted on 6/20/2011 and was voted one of the top threads of 2011
I'm a jedi knight looking to break into investment banking. I went through the jedi academy (it was kind of one of those things where they recruited me when I was really young and wasn't exactly sure what I wanted to do) but anyways long story short I am a Jedi knight now and I'm not really going anywhere. Everyone said that it goes Padawan --> Knight --> Master but its fucking impossible to become a master now. I was always interested in finance while I was in the academy and I know that I ultimately wish to enter Ibanking.
Now I know like all non-traditional job seekers everyone is going to start bombarding me with questions. Do you know what finance is about let alone I-Banking? Can you work 100 hours a week? WTF a jedi knight?
My reasons for going into finance are personal, but because I know that no one will answer my question unless I give my motives here it is.
1. Exit ops to the dark side aren't that good. Back in the day there were tons of positions in the dark side but now the rule is one Sith lord and one apprentice.
2. The Jedi Council is fucking impossible to get into
3. I know money doesn't matter but being a Jedi has gotten really bad. I know I won't necessarily be at a hedge fund making 500K in a year but as long as I can own a car and live in a respectable place I will be happy.
4. I really don't like the whole not having sex thing. I know Anakin did it but he was able to lateral to the dark side. As I said before I really don't have that kind of exit op so if I get fired Im screwed.
5. I know everyone says Jedis have the best job security but I sense a disturbance in the force that tells me that's about to change very soon…
Few stats:
I studied at non-target Jedi Academy, my midi-chlorian count is 900 (I know that's low but I plan to retest), I was the head of my academy's book club
Just a few questions:
1. Do I have a shot of getting into I-Banking straight from the academy or should I enter some other finance field and lateral after a few years of exp?
2. Should I stay in the academy an extra year so I can do an internship somewhere?
3. I currently have an offer for an unpaid internship at a top boutique IB but I currently only have 7,000 republic dataries will that be enough to live in NY for the summer?
4. If I get into a top MBA program can I be hired as an associate?
P.S. to all of you who are going to state the obvious (transfer to a target) I tried contacting the jedi temple on Coruscant but no one picked up.