Left GS this Friday after 5 years; My story.

AM
)
on 3/31/12 at 10:45pm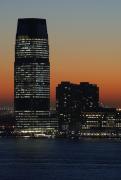 I wanted to share my story today with the WSO community as I think it is quite unique and might offer some hope to the state school monkeys who do not have much in internship and networking going for them.
My most recent position was with the GSAM derivatives middle office team, a position that I resigned yesterday after almost five years with GS. I resigned because I will be attending INSEAD business school in August and wanted a few months to myself before I start.
Now to the part about how I got to where I am today. I grew up in Colorado where my dad worked as a Taxi Cab driver and my mom stayed at home to take care of my sister and I. I got into the University of Colorado, but unfortunately after a semester my dad told me that he was no longer able to pay for the tuition/expenses, so in order to stay in school I decided to join the Colorado Air Force National Guard for a six year contract in return for which they would help me pay for school. With all of the activations and full time service that the guard asked of me, it took me five and a half years to graduate, but to my luck Goldman came to recruit for their Salt Lake City office for the first time at Colorado. I went to the interviews thinking that this will be a long shot, but after 2 campus interviews followed by a superday in Salt Lake, I was one of two people from CU to join as full time employees in the operations division in Salt Lake.
I was placed on a team that worked at night supporting the PWM business in Asia and Europe. I would come in around 10pm and go home around 10 in the morning. This lasted for about a year and a half before the nightshift was disbanded and our ten member team was asked to find spots during the traditional work day. I joined the trade confirmation team for GSAM and remained with them for the remaining time that I was in Salt Lake.
During my time with the GSAM confirms team I passed my CFA level 1 as well as the series 7, did well on the GMAT, was promoted to associate, got a pilot's license, and coached high school hockey. At work I took initiative to work on some global projects that had a high impact and used all this to leverage a move to the derivatives middle office team in NY/NJ. During my year in New York I applied to INSEAD and received my acceptance letter shortly before Christmas and decided that I will leave the firm after the first quarter to do some traveling and concentrate on CFA lvl 2 for this June.
Unlike Greg Smith, I actually enjoyed my time at GS, I really did feel that everything we did that I was a part of was always done with the client as the primary focus and that the teamwork and hard work ethic was always a strong part of the firm culture.
I think the moral of the story here is that although my route was very unconventional, I still earned the opportunity to attend a top business school and will have great recruiting opportunities just like anyone who took a more traditional path to get to bschool. I chose to go to INSEAD because I want to work in Europe (primarily Russia) after graduation in the energy and commodities field.