Market Crash
ST
Points)
on 8/14/09 at 11:32am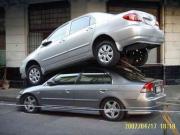 -The market rally is built on shoddy fundamentals.
-25% of people on unemployment run out of benefits between Oct and Dec.
-Investors having growing concerns over short-term automated platforms (which account for a huge amount of volume).
-Savings rates are rising.
-Mid- to long-term, the foreign appetite for US debt is shrinking. Treasury auction yesterday poses some hope, but I don't see a long-term absorption - and the success of the auction hurt the dollar.
-Unemployment numbers released by the government are deceptive. When you take out unwarranted seasonal adjustments (eg - adding numbers to the auto sector in July) and consider utilization (33 hr work-week?), it's getting worse.
On some of my favorite sites (seekingalpha, zero hedge, realclearmarkets), I've seen more and more predictions of another imminent market crash (~35% decline or more, putting us in the high 5000 / low 6000 range, coupled with high volatility).
Do people think this rally is sustainable, and what position(s) would you take to express your short-, medium-, and long-term views?