Mckinsey vs. Goldman Sachs Sales & Trading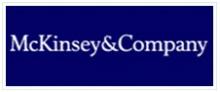 I am very lucky to have two offers this summer as a sophomore and would like to know if anyone had any advice on how to decide between the two.
Both are in NY, and I really loved both while I went through the interview process, but am not really sure what I should be looking at in terms of how to approach this decision.
I am also only a sophomore, so I would have another summer after this one to intern at the other for example if I really did not like it, so that has also been something I've been thinking about.
Anyways any help would really be appreciated!
Thank you
The WSO Advantage - Management Consulting
Upcoming Events
Nov 26 2015 - 8:00am

to

Nov 27 2015 - 8:00am

Nov 29 2015 - 8:00am

to

Nov 30 2015 - 8:00am

Nov 29 2015 -

12:00pm

to

1:00pm

Nov 30 2015 -

8:00pm

to

9:00pm

Dec 2 2015 - 8:00am

to

Dec 4 2015 - 5:00pm
Poll
Long term, which career path interests you the most?
Accounting
1%
Asset Management
10%
Commercial Banking
1%
Consulting
4%
Corporate Finance / Strategy / Development
9%
Entrepreneurship
6%
Equity Research
3%
Fintech
2%
Hedge Fund
18%
Investment Banking
9%
Investment Advisor / PWM
1%
Private Equity
16%
Prop Trading
2%
Real Estate
6%
Sales & Trading
3%
Venture Capital
6%
Other Finance Role (academia, non-profit, government, legal, etc)
1%
Other - Non Finance
2%
Total votes: 1178