Networking utilizing demographics

IB
Points)
on 7/23/12 at 12:31pm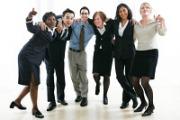 Going through my school's alumni database looking for people to email for networking. I'm wondering what you guys look for in deciding who exactly to email. I have a decently large selection to choose from, but obviously not everyone I search for under Finance - Investment Banking will be useful, especially because some of the profiles are years outdated.
Would you rather network with someone of your own race or do you think it doesn't matter? One advantage I can think of is that, as a caucasian, if I network with Indian or Asian alumni they will be more helpful due to the fact that 1. They probably don't network with people as much and will feel special that I'm contacting them, as opposed to a good-looking white guy who will out-do me in terms of social skills and make me look like a bad networker. In other words, because Indians and Asians are (generally) less socially skilled than their caucasian counterparts. Do you think this is an advantage for me or a disadvantage (ie a more outgoing individual will be better). I feel like if I network with the Indians/Asians I will be able to make them like me easier and impress them socially. Then they might feel obligated to help.
Along the same line of thinking, do you think gender matters? I feel like all the networking stories I read are one male undergrad talking with a male analyst/assoc/MD. Maybe the female employees feel left-out because there are not as many women trying to contact them for networking, so they will spend more time with me? Personally I feel like I can talk to a woman easier as opposed to a hot-shot MD. Plus in general women are nicer and more helpful. The downside to that is probably that we have less in common. What would we talk about outside of finance? I'm willing to bet most women in finance are too busy to care about how the Yankees are doing.
Essentially, my question boils down to: If you had to network with one person, would you rather them be same sex or different sex, and socially outgoing or less socially skilled, ceteris paribus?
Obviously not all Indians/Asians are nerds and a woman could be more of a hardass than a male (often they are in finance) but I'm just using these sterotypes to support the numbers game that is networking.