NFL Cornerback Domonique Foxworth to be part of HBS '15 - with a 570 GMAT
NFL Cornerback Domonique Foxworth to be part of HBS '15 - with a 570 GMAT
Pages
Investment Banking - Generalist - 1st Year Associate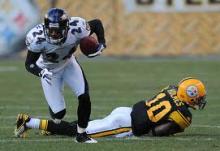 So, Veritas Prep just blabbed about the 570 GMAT-er who got into HBS being a client of theirs. They also oh-so-helpfully posted a bunch of information about this client being an elite-level athlete with >20,000 Twitter followers, and now everyone knows that the gentleman in question is none other than former Bronco/Falcon/Raven Domonique Foxworth.
Dude's GMAT is obviously far from stellar, and his work experience has mostly involved smashing into other people. That said, his experience also included a lot of teamwork, leadership, and hard work, plus his college academic record was apparently pretty solid. Decent enough to prove that he's no bumbling fool.
Thoughts?
Upcoming Events
Nov 27 2015 - 8:00am

to

Nov 28 2015 - 8:00am

Nov 29 2015 - 8:00am

to

Nov 30 2015 - 8:00am

Nov 29 2015 -

12:00pm

to

1:00pm

Nov 30 2015 -

8:00pm

to

9:00pm

Dec 2 2015 - 8:00am

to

Dec 3 2015 - 8:00am
Poll
Long term, which career path interests you the most?
Accounting
1%
Asset Management
10%
Commercial Banking
1%
Consulting
4%
Corporate Finance / Strategy / Development
9%
Entrepreneurship
6%
Equity Research
3%
Fintech
2%
Hedge Fund
18%
Investment Banking
9%
Investment Advisor / PWM
1%
Private Equity
16%
Prop Trading
2%
Real Estate
6%
Sales & Trading
3%
Venture Capital
6%
Other Finance Role (academia, non-profit, government, legal, etc)
1%
Other - Non Finance
2%
Total votes: 1190