NFL Cornerback Domonique Foxworth to be part of HBS '15 - with a 570 GMAT
Pages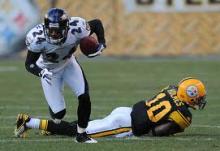 So, Veritas Prep just blabbed about the 570 GMAT-er who got into HBS being a client of theirs. They also oh-so-helpfully posted a bunch of information about this client being an elite-level athlete with >20,000 Twitter followers, and now everyone knows that the gentleman in question is none other than former Bronco/Falcon/Raven Domonique Foxworth.
Dude's GMAT is obviously far from stellar, and his work experience has mostly involved smashing into other people. That said, his experience also included a lot of teamwork, leadership, and hard work, plus his college academic record was apparently pretty solid. Decent enough to prove that he's no bumbling fool.
Thoughts?
Don't Miss This Awesome Related WSO Content
Upcoming Events
May 30 2015 (All day)

to

May 31 2015 (All day)

May 30 2015 - 8:00am

to

May 31 2015 - 5:00pm

Jun 1 2015 -

6:00pm

to

7:00pm

Jun 2 2015 -

8:30pm

to

9:30pm

Jun 4 2015 - 8:00am

to

Jun 5 2015 - 5:00pm
Poll
What's your favorite suit color for work?
Charcoal / Charcoal pinstripe
24%
Black pinstripe
4%
Brown / Brown pinstripe
2%
Gray / Gray pinstripe
8%
Navy / Navy pinstripe
60%
Other
2%
Total votes: 184