NFL Cornerback Domonique Foxworth to be part of HBS '15 - with a 570 GMAT
Pages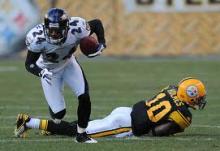 So, Veritas Prep just blabbed about the 570 GMAT-er who got into HBS being a client of theirs. They also oh-so-helpfully posted a bunch of information about this client being an elite-level athlete with >20,000 Twitter followers, and now everyone knows that the gentleman in question is none other than former Bronco/Falcon/Raven Domonique Foxworth.
Dude's GMAT is obviously far from stellar, and his work experience has mostly involved smashing into other people. That said, his experience also included a lot of teamwork, leadership, and hard work, plus his college academic record was apparently pretty solid. Decent enough to prove that he's no bumbling fool.
Thoughts?
Upcoming Events
Jul 5 2015 - 8:00am

to

Jul 6 2015 - 8:00am

Jul 5 2015 -

4:30pm

to

5:30pm

Jul 6 2015 - 8:00am

to

Jul 7 2015 - 8:00am

Jul 6 2015 -

7:30pm

to

8:30pm

Jul 7 2015 - 8:00am

to

Jul 8 2015 - 8:00am
Poll
What's your current monkey status?
In undergrad
36%
Recent grad, looking for work
7%
In a graduate program (MBA, MSF etc)
8%
Recent MBA/MSF or equiv graduate, looking for work
1%
Currently work full time in finance, 0-5 years
35%
Currently work full time in finance, 5+ years
3%
Currently work in another field
6%
Quit finance / left by choice / retired
0%
Recently laid-off from a finance position
1%
Other (in high school, actual monkey, etc)
2%
Total votes: 351