OWS Aiming to Shut Down West Coast Ports

ST
Points)
on 12/12/11 at 4:25pm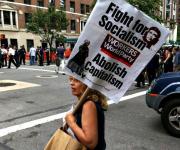 Sorry , yet another OWS thread. I saw this story pop up today and I decided to read it, unlike most days where I usually ignore this kind of stuff. What was different today was the fact that the contents of this select story really bothered me.
http://www.bloomberg.com/news/2011-12-12/goldman-sachs-top-target-of-occupy-protests-at-west-coast-ports.html
Here is a quote from the article.
"This isn't about the truckers," Charles Rachlis, 55, a government scientist from El Cerrito, California, said in an interview at the Oakland protest. "We have to shut down the wheels of capitalism at the port. This scares the bejesus out of Wall Street."
Shut down the wheels of capitalism?! are you kidding me? These people are nothing more than socialists that want equality. The root of their argument is basically this:" You have more money than me because you went to college and worked your ass off. I didn't and now I'm pissed that my wages don't keep up with inflation. Now give uncle sam more of you tax dollars because you make more."
There is nothing in this country that says it is a right to be equal. This is capitalism, period. Socialism strives for surplus and progressive distributions while capitalism seeks individual profit. If these people want wealth equality, go live in some other country. If a country does in fact practice capitalism and does have some type of wealth equality that is a somewhat lower Gini coefficient, then that equality comes from sound monetary and fiscal policy. These people are protesting all the wrong things.....They need to occupy congress and D.C. because that is where the majority of their grievances are derived from, not Wall St. or some poor port worker that is just trying to make a living.