Pretty sure I'm getting fired from SA tomorrow
Points)
on 7/31/12 at 1:00pm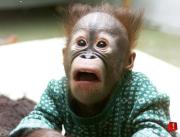 Less than three weeks left and I'm 99% sure I'm getting terminated tomorrow.
Our deal team has been working on what would have been a really major transaction. We have 3 MDs on this one (names changed):
#1: Let's call him David, is a guy who is one of the more likable people I've met (not just in finance). David's a good dude who maintains a good relationship with all of us young and clueless monkeys.
#2: John, short tempered f*ck head, always dissatisfied with everything. Gets sh*t done, but treats underlings like we are getting in his way all the time.
Anyways, nobody has really left the office since Tuesday, everyone is as stressed and miserable as you can imagine in an office setting. Despite us doing everything right, the deal has pretty much completely deteriorated just in the last 48 hours. John has completely lost whatever temper he might have had, PMSing like a motherf*cker. I've been avoiding even making eye contact with him all day.
The office mostly cleared out around 9 and John left for the day. I cracked a joke to another intern about John needing some anger management and wen't back to my outlook. Turns out he didn't leave yet. He just happened to be walking past my desk, heard all of it, and immediately broke down and went off on me.
What ensued was the most terrifying experience of my life, my asshole was torn wider than I knew was possible. The other intern gets berated for chuckling. I must have looked pale as a f*cking ghost. I tried to apologize, he just cuts me off and tells me not to come in tomorrow. I get my sh*t together and head home as fast as I possibly could.
All I can think about is how hard I have worked, countless hours networking and prepping and busting my ass to finally get that dream SA position. What a stupid f*cking way to lose a FT offer.
Now I get home and I can't login to my company email. OH F*CK. :(