Professional Designations – Less is More?

VC
Points)
on 7/16/12 at 7:36am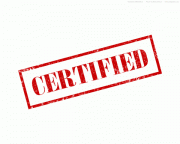 We've all seen that person on an e-mail signature listing out 6 professional designations following their name. You like to take exam. We get it. While you're at it why don't you should include H.S.D. for your high school diploma and that rock climbing certifications after that brutal safety test?
I'm all for exceling one's career and earning these professional designations, but at what point do you move these letters from after your name to the bottom of your resume? You got your MBA, CFA, CPA, J.D. – do you list them all out after your name, or focus on the one that is most applicable to your current position?
The only reason one includes these designations as part of their name is to portray a level of expertise in a subject matter that commands a level of respect. It's a way of projecting credibility when discussing a topic without having to refer to your background.
But at what point does less mean more? You spent $200,000 on an MBA, you know that's staying up there, so does your law school degree and probably any other thing you spent years working for. Yet a lot of the benefit that comes with being a CFA Charter Holder is the prestige of the designation after your name.
As you rack up more than one designation it seems to me that the added benefit is diminishing. While the perception is still the same, yes you are smart and qualified; you are also instantly projecting your entire background without saying a word. Too much, too soon, negative benefit.
@Nivo0o0