Quitting MBB @ 1 year - how much notice?
Pages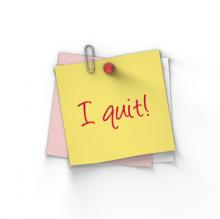 Hi guys,
So, I hate consulting. Hours are too long, bullshit piled too deep, travel exhausting. I'm far from home and miserable, so I've decided to quit.
How much notice do I need to give them? Is the standard 2 weeks enough, or do I need more?
By mid-August I'll have been in my entry-level BA role for one full year. I'd like to not work an additional day past it. Anyone have experience in this? Thanks.
The WSO Advantage - Management Consulting
Upcoming Events
Nov 29 2015 -

12:00pm

to

1:00pm

Nov 30 2015 -

7:00pm

to

8:00pm

Dec 2 2015 - 8:00am

to

Dec 4 2015 - 5:00pm

Dec 3 2015 -

7:00pm

to

8:00pm

Dec 7 2015 -

7:00pm

to

8:00pm
Poll
Long term, which career path interests you the most?
Accounting
1%
Asset Management
10%
Commercial Banking
1%
Consulting
4%
Corporate Finance / Strategy / Development
9%
Entrepreneurship
6%
Equity Research
3%
Fintech
2%
Hedge Fund
18%
Investment Banking
9%
Investment Advisor / PWM
1%
Private Equity
16%
Prop Trading
2%
Real Estate
6%
Sales & Trading
3%
Venture Capital
6%
Other Finance Role (academia, non-profit, government, legal, etc)
1%
Other - Non Finance
2%
Total votes: 1165