Re-applicants and career goals
Hedge Fund - Other - 3rd+ Year Analyst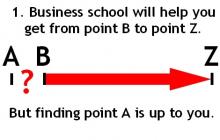 Most schools hold onto your applications for 2 years, and when you re-apply within that time frame they actively compare your app to your previous one.
Question: to what extent does one's career goals have to be consistent with those expressed in your previous application? If your career goals change rather drastically in 2 years, will that raise a red flag among adcom?
Upcoming Events
Feb 5 2016 - 5:00am

to

Feb 6 2016 - 5:00am

Feb 9 2016 -

2:00pm

to

3:00pm

Feb 10 2016 - 5:00am

to

Feb 11 2016 - 5:00am

Feb 14 2016 -

12:00pm

to

1:00pm
Poll
Who do you want to win the superbowl?
Panthers
30%
Broncos
36%
Don't care
35%
Total votes: 200