RE: Cleaning up WSO/Abolishing Dumb Posts
Points)
on 5/4/11 at 11:01am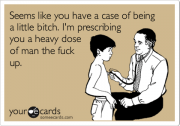 Hello readers.
Been following WSO for a couple years and it saddens me sometimes to see silly ass posts that take away from the purpose of this site. A few examples:
1) Asking for advice on fashion...*Man the fuck up and ask a friend or family whether you look like a dumb-ass in suspenders with square-toed shoes and no socks. I can't stand to see shit like this sometimes.
2)Asking for advice on girls...*Grab a set and either consult with your friends/read GQ/go to pick-up forums...but please...don't post on a Wall Street/finance oriented website on advice on dealing with women. I'm really biting my tongue here but come on guys, is it really appropriate to ask whether the girl hitting on you at work last week has potential? Want some advice? Start going out and approaching women and you will become savvy after getting rejected. Moving on...
3) The old what should I do: BB Ops or MM/Boutique IB? *This is not to hate on anyone that works in operations. But seriously guys, get experience that will be valuable to you in the future and where you will learn. The prestige bullshit has got to stop at a certain point. Relevant/front-office experience will trump ops (if front-office work is what you want to end up doing) about 99/100. Ok? So think here and please don't waste our time by yearning for our validation.
4) Asking if your experience and credentials will set you up nicely for business school...I understand if you feel like WSO is appropriate but honestly, very few people I feel like either are MBA consultants/adcoms here so why do you think you are going to get good advice.? The exception are those that have gone through the MBA application process....But come on now guys go to Gmatclub.com for your questions as you will get far more valuable input and advice than you would here. And beyond that, do what makes you happy and kill it and quit seeking validation.
5) Coming to WSO to validate your school/career choice. Some of the posts have been legit but I can smell the insecurity a mile away. You don't know how life is going to pan out and a lot of it can be based on your merit and unforeseen shit happening. OK? Did I make the right choice by going to UVA (nothing against UVA), blah blah blah. Who the fuck cares. Live with your choices and make the best of it and have comfort in knowing you probably can't accurately predict what's going to happen. Life is not only about exit opps are rankings and while it's important to take your future seriously I feel like you got to have more to life such as family,friends, social activities, travel, etc.
*There are probably more types of posts that piss me off but I don't want to offend people. The readers/commentariat here can be pretty solid but I feel like I have seen it head downhill the past year and it's disappointing. I'm not shitting on anyone here but I think most agree that WSO would benefit if we got rid of the above-mentioned type of posts.
*And to hell with some of you vicious or negative posters here that are downright rude to other members. It's not really cool or brave when you say such things anonymously. Yea I might be coming at previous posters I don't approve of but I think I've been pretty reasonable about it*