The Truth About Money

ST
Points)
on 7/28/10 at 8:36pm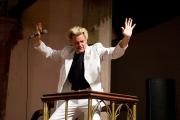 I'm seeing a few subtle similarities in the economy today to three years ago, and though it would be precipitous to say a second dip is probably on the way, I don't think it hurts to share some of the wisdom I've gained over the past three years in personal finance.
When I arrived in New York back in 2007, about half of the people my age were living pretty extravagant lifestyles for analysts earning a $60K/year salary. Half of them were living in Manhattan, paying Manhattan rent and NYC taxes, and dropping $200 partying at the Pink Elephant every weekend. They figured they were in New York, they were bankers, and they wanted to live the life. Unemployment was 4.6%, credit was easy, and heck, the economy would always be good! So rather than save money, they chose to dig themselves deeper into debt.
The other half of us got to NYC and we were scared. Just out of college, we were totally broke, and now our rent was going up by a factor of three or four to cover living near NYC. Few of us had held a job for more than a few months straight, and now we were expected to sign a 12-month lease with a total rent greater than our net worth. So rather than living in Manhattan, we saved some money by living in Brooklyn or Hoboken. Rather than partying at the Pink Elephant or the Hudson Hotel Bar every weekend, we settled for beer at home or maybe going to a dive bar that served up $4 domestics if we felt like splurging. Rather than eating at trendy restaurants like Spice Market, we were content with Subway. All of that money we saved went into paying down student debt and building up emergency savings.
The bottom fell out of the market in September 2008, but the layoffs in the financial sector really started in late 2007- and even hit some newly-hired analysts then. It got progressively worse until the market bottomed in 2009, but those of us who were scrimping and saving slept a lot better at night and aged a lot less through the crisis. If we got laid off, we already had a frugal lifestyle, and we had enough money to cover that for quite a while.
So, if you're a new analyst, the next time you have the choice of going to a trendy, expensive club or a dive bar, just imagine what would happen if you got laid off. If you don't like what you see (images of evictions and creditors calling at 3AM), go to the dive bar.
The truth about money is that you either own it or it owns you. And the more of it you spend on things that you don't really need for yourself, the more it owns you.
Tags: