Top 27 profiles for HBS - Class of 2014
Pages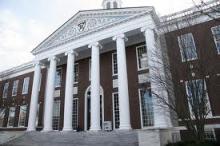 As some celebrate the end of the grueling admission process (short,compbanker etc) others are just beginning (class of 2016)
I will be applying to the usual suspects this fall, came across this post and thought to myself "the new formula for getting into HBS" goes something like this; found a start up (no matter how boring) + found/be highly active in an NGO = $$$$
What are your thoughts on this new trendfrom blue chip/BB+PE experience to start up and NGO experience.
**Management consultants still seem to get some love.

Harvard Business School is one of the most exclusive institutions in the world: Only 13% of applicants were admitted last year, and it is US News' top-ranked business school.
An MBA from Harvard is the path to the corner office and a six-figure salary right out of school, and also a place where entrepreneurs are born. Famous alumni include Facebook COO Sheryl Sandberg and NYC Mayor and Bloomberg LP founder Michael Bloomberg.
We found the most impressive students currently getting their MBAs -- many of whom aren't waiting to graduate to get their businesses going. One went to Princeton at 16 before joining Microsoft as an engineer. Another sold his successful startup for more than $100 million and published a book before enrolling.
People we've spoken to at Harvard agree that these students are among the school's finest. And they're just getting started.

http://www.businessinsider.com/most-impressive-har...
These 6 FREE Financial Modeling Lessons
Can Help You Land Your $100k+ Dream Job
Our Fun Excel Training and Challenge Contest
DCF Modeling, Tons of Free Templates & Video Tutorials
Valuation Lesson on Trading Comps
Cash Flow Modeling and more!
I would normally sell this for at least $200, but we're offering it for free as a sweet bribe to join our community of 350,000+ members. See you on the inside!
Lazy? Join us and get the 6 free lessons with 1 click below!
6 Free Financial Modeling Lessons...and More.
Enter e-mail to get our Modeling Tutorials (Worth $200+)
Upcoming Events
Oct 10 2015 - 8:00am

to

Oct 11 2015 - 8:00am

Oct 10 2015 -

1:00pm

to

2:00pm

Oct 11 2015 - 8:00pm

to

Oct 12 2015 - 9:00pm

Oct 14 2015 - 8:00am

to

Oct 15 2015 - 8:00am

Oct 15 2015 (All day)

to

Oct 16 2015 (All day)
Poll
Long term, which career path interests you the most?
Accounting
0%
Asset Management
7%
Commercial Banking
1%
Consulting
5%
Corporate Finance / Strategy / Development
8%
Entrepreneurship
7%
Equity Research
4%
Fintech
2%
Hedge Fund
21%
Investment Banking
10%
Investment Advisor / PWM
1%
Private Equity
16%
Prop Trading
1%
Real Estate
5%
Sales & Trading
3%
Venture Capital
5%
Other Finance Role (academia, non-profit, government, legal, etc)
1%
Other - Non Finance
2%
Total votes: 475