VIX: What I Should Have Put My Money In

CF
Points)
on 7/20/10 at 5:40pm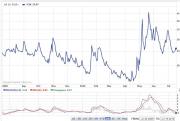 Instead of playing this quarter's earnings, I should have played the VIX!
How crazy is it that it's considered NORMAL to have a day where the market swings a hundred points! And then it feels weird when the DJIA moves 20. WHAT! But that is the reality that we are living in.
Best way to play the VIX: Sell/Write some calls or puts that are DEEP OUT-OF-THE MONEY. I mean even writing a put on the bluest of of blue chips, i.e. Proctor & Gamble, you can't be safe when the market freaks out and slides 900 points in a minute. I'm talking about the "fat finger" episode if that wasn't clear.
I just had an epiphany! They best way to play this market is DRUNK!
Yours truly, The Young Investor