Who said Wall Street doesn't know how to party?

O
Points)
on 2/6/09 at 5:46pm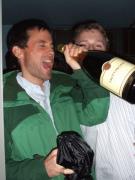 It's true, Wall Street has taken quite a hit over the past several months, and those left working here have become the butt of more jokes than we can keep track of. A few of my favorites include:
Q: What's the difference between a guy who just lost everything in Vegas and an investment banker?
A: A tie.
Q: What's the difference between an investment banker and a pigeon?
A: The pigeon can still make a deposit on a Porsche.
Q: What is the difference between a dead cat and a bad investment?
A: You still get a bounce from the dead cat when they are thrown out of the window.
The list could go on and on (feel free to share your favorites, we could all use a laugh these days). In the meantime, many on Wall Street have been hitting the party scene. Ok, probably not the traditional New York night club, someone slipped me a ruffie, ending up face first in a public toilet at the end of the night kind of party. But since there are drinks involved, and socialization outside of the office, let's call it a party.
The newest craze on the Street is called the Wall Street Pink Slip Party, and it's really starting to catch on. It's pretty much exclusive to Wall Street folks who have recently found themselves unemployed and looking for work in a market that is fast on it's way to becoming the worst this country has ever seen.
Attendees bring their newly polished resume, grab a cocktail and rub elbows with recruiters and other down-on-their-luck job seekers who are in the same boat as them. It's a networking opportunity, but it's also a chance to relax with a good drink and realize that you're not the only one who ended up on the wrong end of a pink slip. Bottom line is, this is something we all could use right now. Now pass me a martini, please. Oh, and don't forget the ruffie.