Why are you guys still interested in markets?

IB
Points)
on 1/11/13 at 11:08am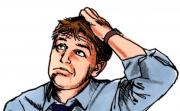 I don't really go on campuses anymore representing my banks at banking fairs, so for the last 2 years I have had little contact with undergrads etc...
I interviewed about 4 potential juniors recently, then decided against hiring someone without a client base. The only thing I really saw was that the guys 1) either just got laid off, or 2) could not find a single job; it was more a: "there is a job in banking, will try and get it even though i don't know about it". Brilliant people, with eye watering CVs; just an absolute shocker that they were still unemployed.
Given the massive hiring freeze, the over-bloated effectives in equities and fixed income, and the general beating banks have been taking. What makes you keep on going? The massive base salaries banks seem to pay? Or are you still hoping to get a nice bonus at some point? What's the carrot?
I'd be curious to know about people that are interested in markets strictly speaking, no bankers. Bankers are messed up in their own ways.
(And if you are still trying, keep looking, especially away from the bulge brackets; there are a few jobs out there, and if you are good you'll get it. Best of luck, because what I have seen from my friends being laid off etc... It's not a fun time to be looking for just any jobs in equity, and to a lesser extent in fixed income [kick ass year in FI, yet they are still letting people go...])
Tags: