Would it work? Stock Price Boost for Research in Motion (RIMM)
Points)
on 11/3/11 at 6:40pm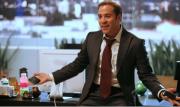 Research in Motion has had round after round of bad news, and the stock now trades at $18.85, which is hovering around book value. They need to do something to right the ship quickly. 40.3M shares are sold short, or Short Interest as % of Float 8.57%. That's from Scottrade fundamental charts, so the accuracy might not be spot on, but, essentially, a large portion of the shares are sold short.
With so many shares sold short, why don't they use some of that cash they have + take on some debt and pay a special one time dividend. They could use a good portion of the money they borrow to go towards speeding up their product pipeline, while using the rest + extra cash on hand to pay a large dividend?
The point: The special dividend would theoretically screw over the people who are selling shares short (they are responsible for the dividend, correct?)
It would also be a show of strength, and between doing that and spending more money on their product pipeline, they could better position themselves in the market.
Opinions? Would the special dividend have any chance of working to get the stock trading healthily above $20 again?