WSO Company Database 3.0 - Thank You and Let's Keep Rolling
EN
Points)
on 1/10/12 at 10:08pm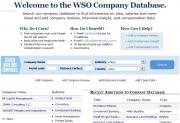 As we approach 1,000 companies in the WSO Company Database, I'd like to take this time to first thank everyone that has helped us get this far. The interns, the volunteers and the WSO community in general. We finally have a template that is workable and a critical mass that is meaningful.
I am super excited about this initiative and think this database could take the community to the next level. No more "Can you list the boutique banks in this region?" threads need to happen with people pulling up CapIQ lists. We have almost all of that (1,000+ companies) in the database now, and more is coming.
My hope and goal, is that over the next 2 years, we can do the same with the "Do you know how much X bank pays associates?" and "What is it like to work at XYZ firm?" and "What interview questions should I expect at XYZ firm?" type questions.
It is a monumental task but one I think we are capable of completing. In fact, a lot of that information is already in the over 500,000+ comments on WSO. It's just a question of getting buy-in from you guys and making sure we get the collective knowledge and insight of the group into a form that is easily searchable for the young chimps.
If we don't get 1,000s of reviews, interview insights and compensation data points, the Database will still be useful as a geographical search tool, but it won't reach it's full potential. I hope that the more experienced monkeys will join me in adding their past work history - company reviews, interview insight, and compensation data. We see this knowledge in the forums every day - I'm hoping we can get some of that in the database so that a true evaluation can be made of the firms on Wall Street. What firms are the boiler rooms? What firms pay great? What firms pay under market?
With that in mind, you'll see a new link under the Logo called "DATABASE"...you can click on it to take you to the DB, or you will see there are drop downs to take you straight to adding content.
Thank you for your continued contributions. Every day I'm excited to try and make WSO a better community - more fun and more educational. I hope 2012 will be a record year and I hope that database and all of you will help us get there.
Thank You,
Patrick
Tags: