WTF is productivity?
ER
Points)
on 7/18/12 at 6:45pm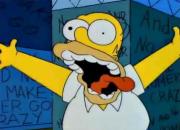 Hey WSO,
I've been struggling with something for quite some time. I can't focus. Unless it's something that greatly interests me, I can't force myself to do anything. This has hampered my performance in many areas of life and I can't seem to get a grip on it.
Before some of you simply tell me to stop slacking off and do some work, I'll say that I really do find it difficult to get things done. I have a general lack of ability to plan at times, have a short temper, and generally derive way too much enjoyment from cheap thrills and momentary pleasures. I've been able to perform well at my jobs, but it takes a monumental effort on my part that usually culminates with me having to take a day or two off every month (due to being blacked out, physically incapable of getting to work, in trouble, etc.). Sometimes, that could just be way too long (like if I got a real job).
Have any of you ever sucked at being productive? I tend to be able to focus on only one thing in my life at a time, and being well-balanced has never been something I could honestly say about myself.
Any general thoughts or experiences like this?
"The day is perfect, and I hate it for being so." - M. Aspic