Calgary Finance Industry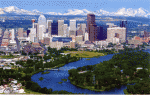 Hi All,
I'm a graduate of York U in Toronto and I've been working for a boutique M&M bank here for just over 6 months.
I've got a first round interview with Raymond James Calgary coming up.
Anyone have any thoughts about the team/interview process/deal flow etc?
Thanks!
I attemded 4 days convention of Canadian society of Exploration Geophysict. Had a good discussion with management teams of two majors.
ENCANA and TALISMAN seems to lost lot of money due to 2$ gas price. Talisman is planning to do quite a number of lay off in next three months. ENCANA will be following foot steps of TALISMAN
What are your views about current market condition.

I thought it would be useful for you guys to have a list of investment banks with office in Calgary. See below and let me know of other lists we should compile!
Investment Banks With Office in Calgary
-Acumen Capital
-Altacorp Capital
-Barclays Capital
-Bell Capital Corp
-BMO Capital Markets
-Cambio Capital
-Cannacord Genuity
-Citigroup
-Clarus Securities
-Cormack Securities
-Credit Suisse
-Deutsche Bank
-Dundee Securities
-First Energy Capital
-Global Hunter Securities
-GMP Securities
-Goldman Sachs
-HSBC Securities
-J.P Morgan
-Jennings Capital
-Lightyear Capital
-Macquarie Tristone
-Merrill Lynch
-MGI Securities
-MNP Corporate Finance
-Mustang Capital Partners
-Northern Securities
-Omniarch Capital
-Peters and Co
-Raymond James
-Salman Partners