Proprietary Traders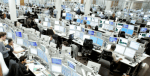 Use this group to discuss anything related to proprietary trading and as a networking tool.
Hi,
I'm a Data Analyst and new to trading with no prior knowledge in it. I have two interviews next month on trading position. Could anyone help me out on how to become proficient in this field.
Thanks & regards,
Akhil Meda
Hi,
I have never posted in this forum before but have been a member for a while and read a lot about what you guys post.
3 questions:
1) What are the best discretionary prop trading firms, ideally NYC, that lets you trades multiple products? Not Quant/High frequency/algo or MM etc. My style is discretionary global macro. I trade on 2 frequencies, Intraday S&P emini futures and more swing trading and long term in other asset classes. Very similar to a PM at Moore, Tudor etc
Hi All, Long term listener, first time caller to these prop trading threads. Am hoping some of you w/ experience in NYC prop trading scene might be able to impart some wisdom on a noob.