Toronto Prospective Monkeys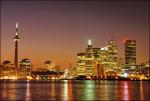 Hey monkeys, how's the recruitment process going for you guys? Any updates?
I was wondering if there are people who are looking for case prep buddies to prepare for MBB recruitment cycle this year, it would be great to form a case preparatory group to practice mock interviews with real people who are looking to go through the grueling recruitment process and prepare with other potential candidates. This method would be especially useful for those who do not have anyone to practice the cases with.
All the potential wanna-be consultants from Toronto who might be interested- please post or PM!
Cheers.