Bitcoin & Ether Price Plunge Ahead of the US CPI Report
Stay Tuned with MEXC Global
The Consumer Price Index (CPI) for All Urban Consumers gained 0.4% in September, according to data released on October 13 by the U.S. Bureau of Labor Statistics, and has increased 8.2% over the last 12 months. One of the most important indicators of inflation is the CPI, which measures how much it costs to buy a market-basket of goods and services for consumers. The increase in the CPI shows that it is more expensive for individuals and households to afford daily expenses like gas and food. The Fed is quite likely to keep hiking interest rates in November due to the highest level of inflation since the 1980s, which will cause the cryptocurrency market to crash. So how does the price of Bitcoin (BTC) and Ethereum (ETH) change as inflation heats up?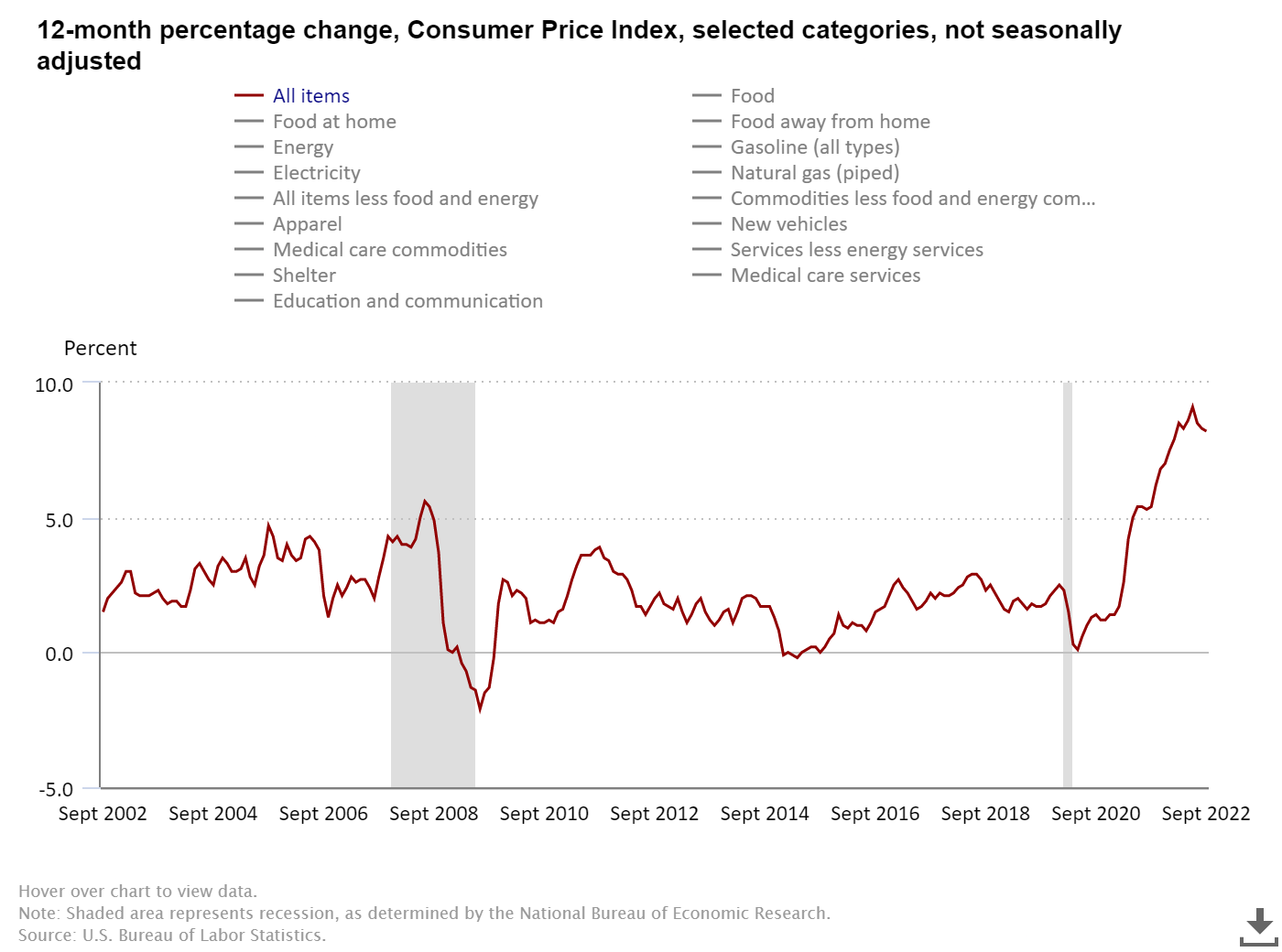 In addition to experiencing strong inflation rates, today's lows for Ethereum and Bitcoin on MEXC Global were $1,150.00 and 18,184.22, respectively. Since the beginning of September, the price of bitcoin has fluctuated between $18,000 and $22,000. A breakout of Bitcoin and other cryptocurrencies may occur soon as a result of today's inflation news, either directly or indirectly.
MarketWatch claims that past experience shows that once inflation exceeds 5%, it normally takes 10 years to fall below 2%, the level that is most consistently associated with maximum employment and price stability. indicating that both the White House and the Federal Reserves would have a long-term challenge. Although it hurts to observe the gloomy market, tightened monetary policy must be implemented to prevent rising inflation rates or, worse, hyperinflation. This is due to the fact that rapid inflation will weaken the US currency over time and raise the cost of imports.
However, due to various monetary and fiscal policies, things could suddenly alter. Although the price of Bitcoin later today bounced back to $19,000, the allure of cryptocurrency volatility remains. Investors and traders should closely monitor the macroeconomic situation and Fed announcements and alter their strategies as necessary to minimize potential loss. Consider switching to dollar-cost averaging (DCA) as an alternative to making all of your investments at once in order to reduce price volatility. DCA lowers the average price per unit over time. This enables you to purchase in smaller quantities at varying costs in a volatile market.