Why Investment Banking? 43 Sample Answers
I have only heard standard cookie cutter answers before, and I am curious how best to answer this investment banking interview question.
The Safe Answers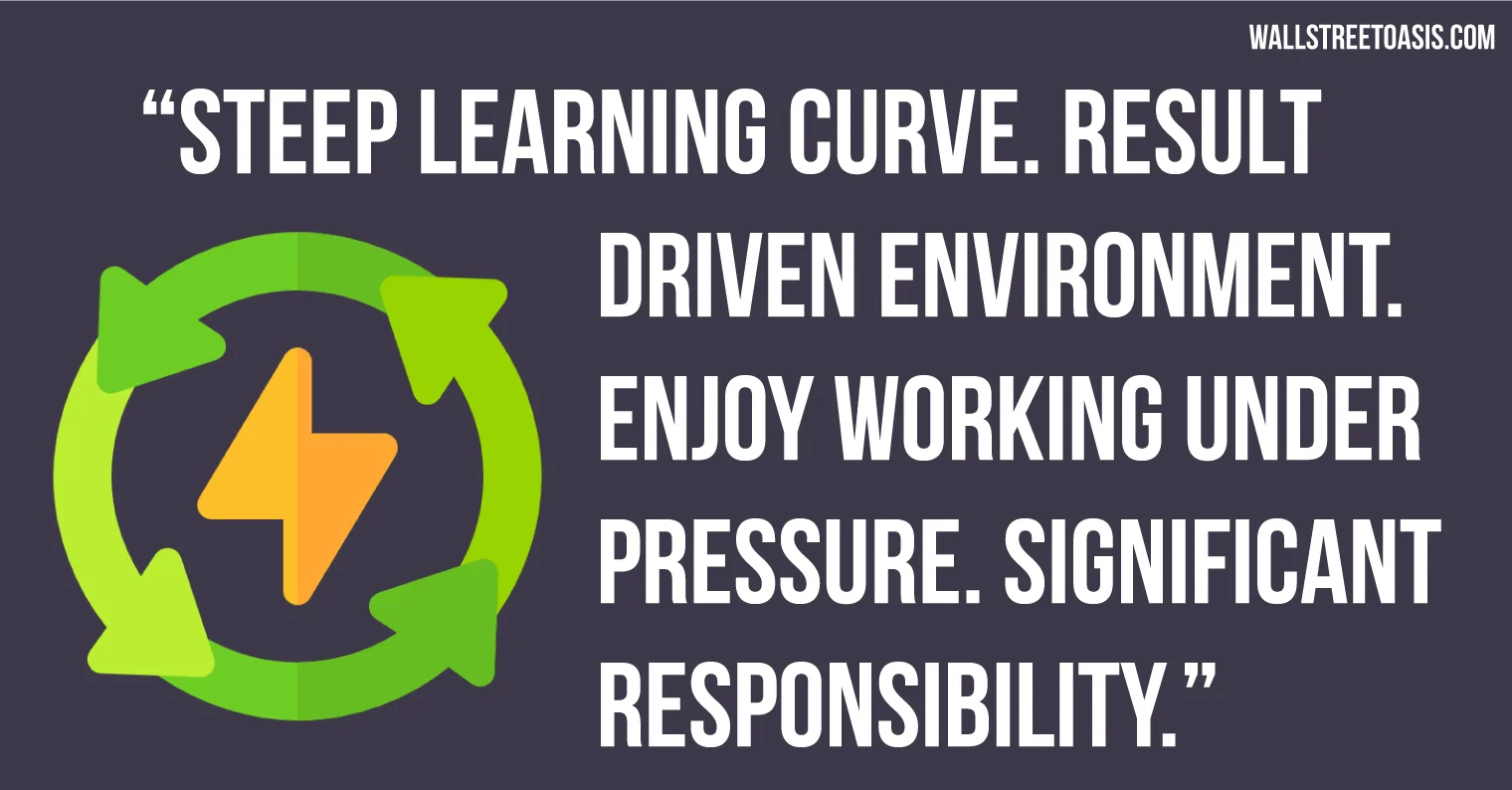 Of course, your desire to stand out and leave a strong impression is justified. Interviewers have more applicants than they know what to do with. And yes, they're looking for people that display intelligence, confidence, and certainty in their future career path. But sometimes it's best to stick to the safe answers and just go with what works.
Here is a collection of the best standard responses to this common question from WSO users.
CompBanker - Private Equity VP: Stick with cookie cutter -- Don't try to be special or unique; stick to logic and passion.
WSO User: Steep learning curve. Result driven environment. Enjoy working under pressure. Significant responsibility.
Ideating - WSO User: The best answers would typically be some combination of experience working on big deals, the caliber of your colleagues, gaining a strong financial foundation, and a strong interest in finance.
Detailed Why IB Answers?
While cookie-cutter responses are safe, sometimes a little more substance is appropriate/appreciated.
Excel modeling skills, and understanding the XXX sector. I know the hours will be long, but the time spent understanding and learning about XXX space would give me the opportunity to remain in finance over the longer term.
I want to work in investment banking because I understand it has a steep learning curve and will allow me to establish a strong foundation for valuation,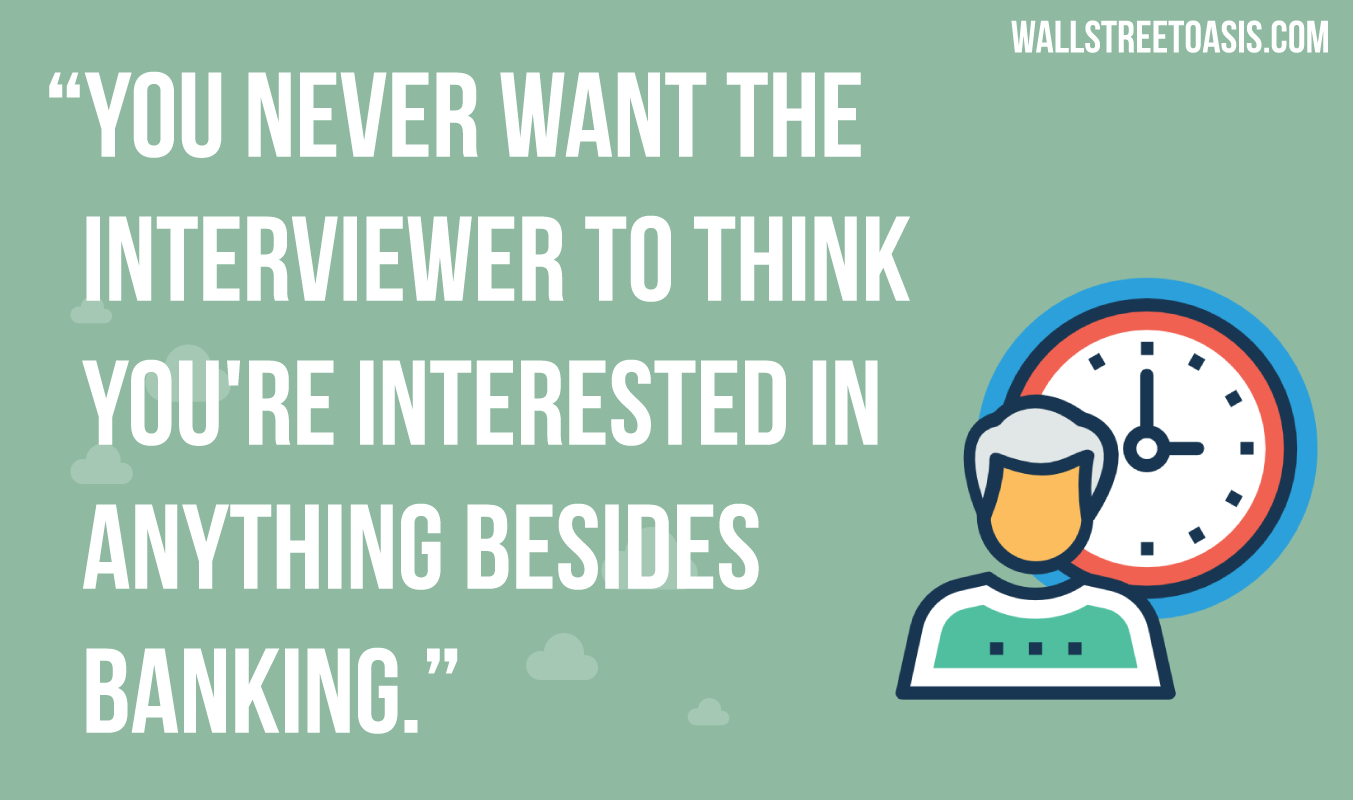 This answer does a few things:
You left him 'bait.' Now he will ask, "Oh really? So what hours do you expect?" So you simply answer 80 low-end and 100+ if a lot of going on.
By mentioning valuation/Excel, you're showing you know what you'll be doing, and you have pitched why it is valuable 'a strong base of skills for *future* on Wall Street'.
Because you never want the interviewer to think you're interested in anything besides banking."
The Wrong Answers
While there are very few "correct" answers, there are plenty answers that are just plain wrong. Here are a few examples and how to avoid them: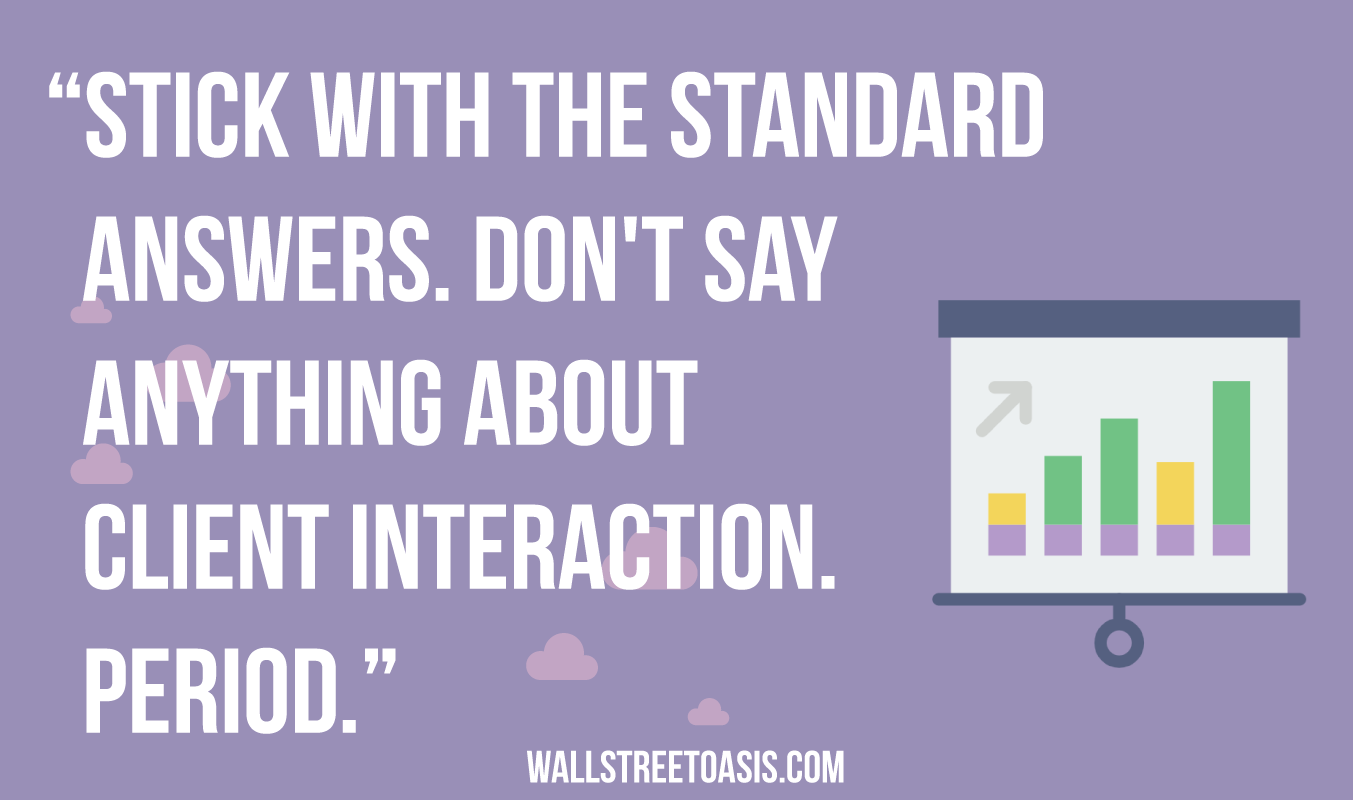 Answers that somehow indicate you are going into the profession to earn large amounts of money or because you eventually want to go to business school/private equity/hedge funds. Even if this may be true, you want the interviewer to think that you are committed to the industry even though he/she knows that, more than likely, you'll decide to leave after two years of service.
Marcus_Halberstram - Industry CEO: Don't say anything about client interaction. Period. Any interviewer that's said anything about 'CEOs, executives, clients, management teams, and (cringe) the C-suite' are immediate 'this kid doesn't know what we/he will do here' dings.
What If You Are a Non-Business Major?
Great answers to this question focus on skill-building, networking, and a love for difficult challenges. You want to emphasize that:
Being a non-business major, you are excited to learn the complex accounting and finance skills involved on the job and eventually transform into an analyst that has potential to significantly impact the group.
You are excited to work with driven, smart, and motivated colleagues and are looking forward to pushing your limits from a work standpoint.
You ultimately want to come off as a positive, 'go-getter' type."
Law to Investment Banking
Jbarret34 [Second Year Corporate Associate] outlines why the move from big law to investment banking makes sense for him:
I know that I love transactional work, like working in a fast-paced, demanding environment, don't mind long hours, and eventually want to be the one making the deals, rather than a lawyer/banker who only facilitates them.

 

Investment banking makes sense because I can develop valuation/pitching/modeling skills.
Consulting to Investment Banking
"WallStreetOasis.com" noted the following if coming from consulting.
If you're interviewing for an entry-level junior role, then your response to this question could be, "While I have gained some great experience working in consulting that translates well to investment banking, I feel that I could learn a more useful technical skill set at an investment bank working on live transactions at [XYZ Firm]."

 

For those trying to get into more senior roles post-MBA, a more appropriate response would be, "I like long projects and getting to know clients; however, the transactional nature of investment banking is very appealing to me because you see the results of your work much more quickly. Whereas consulting engagements can last for years, especially when implementation is involved, the average investment banking mandate typically lasts for several months, so you are getting exposed to more scenarios and the learning curve is faster.
Commercial Banking to Investment Banking
Onemanwolfpack [Investment Banking VP] Gives those coming from a background in commercial banking some solid advice:
Demonstrate you belong. Given your 'atypical' background, you will have to try that much harder to show you belong compared to your interviewing peers who may already be working at other IBs and looking to lateral.

 

Read up on the latest M&A deals, know your technicals frontwards and back, and show an over-the-top eagerness to break into the industry.
In response to the 'Why switch from CB to IB?' question, I recall responding, "Because I look around at 5 pm seeing everyone head for the exit, and I know I have more to offer and want more out of my career than that." May have been cheesy in retrospect, but I believe that's when I won over the interviewer."
Asset Management to Investment Banking
Started your career in AM and want to make a move to IB? Here's some insight on whether or not it's the right choice for you, and if so, how to convince a potential employer you'd be a fit.
MandAisOkay [Investment Banking Analyst: If you don't feel you have an actual passion for AM, I would make the switch to IB because it gives much broader exit opps. If you actually enjoy your work in AM and can see yourself in this business for a long time, just stay.

 

WallStreetOasis.com [WSO CEO]: With a background in AM, a strong response to the 'why' question could be, "Although Asset Management allowed me to analyze companies and financials and make trades based on that analysis, where I really feel that I would excel long term is working more directly with these companies and in transactional work.
Interested in Investment Banking - Breaking In
The fact of the matter is you won't improve unless you practice. To have any chance at the technical questions, you need to prepare yourself with legitimate questions. The WallStreetOasis investment banking interview course is designed by countless professionals with real world experience, tailored to help you break into investment banking by acing the technical questions.