Any info??? All available information seems extremely outdated.
Culture, comp, etc.
Any info on Liquid Credit specifically would be super helpful.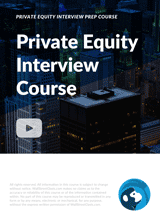 Private Equity Interview Course
2,447 questions - 203 PE funds. Crowdsourced from 750k+ members
9 Detailed LBO Modeling Tests and 15+ hours of video solutions.
Trusted by over 1,000 aspiring private equity professionals just like you.
Total Avg Compensation
May 2021 Private Equity
3rd+ Year Associate (66)

$267

2nd Year Associate (127)

$250

1st Year Associate (271)

$223

3rd+ Year Analyst (24)

$164

2nd Year Analyst (60)

$136

1st Year Analyst (172)

$117

Intern/Summer Associate (19)

$70

Intern/Summer Analyst (195)

$60