Free Month
Contribute to the database and get 1 month free* Full online access!
Contribute and get 1 month free!
1 week free for intern submissions
Most Popular
WSO Premium
Full database access + industry reports: IB, PE, HF, Consulting
$8.33 per month billed annually
...or $19.77 month-to month
Includes All Industry Reports (PDFs)
25k Interviews, 39k Salaries, 11k Reviews
IB, PE, HF Data by Firm (+ more industries)
WSO Elite
All-access Pass: All Interview Courses & WSO Services
$99.99 per month billed annually
All WSO Interview Courses ($996 value)
Mentor (3 Hrs) & Resume ($698 value)
WSO Video Library Access ($399 value)
Save $1,486 (50%+) with WSO Elite
No month-to-month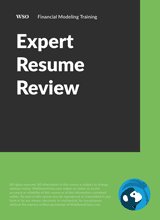 Resume Review Service
Match with one of WSO's financial experts to get your resume reviewed.
We ensure that the most critical documents in your job search are ready.
Rigorous, iterative process with over 2,300 clients over 10 years.
Total Avg Compensation
October 2020 Investment Banking
3rd+ Year Analyst (36)

$168

2nd Year Analyst (147)

$159

Intern/Summer Associate (136)

$141

1st Year Analyst (583)

$129

Intern/Summer Analyst (558)

$82