Any insights on their interview processes for Zurich/Stockholm?
Also grateful for any info on hours/culture/pay.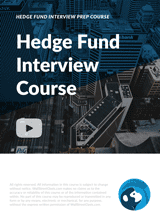 Hedge Fund Interview Course
814 questions across 165 hedge funds. Crowdsourced from over 500,000 members.
11 Detailed Sample Pitches and 10+ hours of video.
Trusted by over 1,000 aspiring hedge fund professionals just like you.
Total Avg Compensation
October 2021 Hedge Fund
Portfolio Manager (7)

$297

3rd+ Year Associate (19)

$272

2nd Year Associate (28)

$241

1st Year Associate (64)

$187

Intern/Summer Associate (16)

$122

Intern/Summer Analyst (213)

$82