Asking for a friend:
chopper: quant researcher with trading potential in 6 month(no promise)
worldquant: junior Portfolio Manager
Any thoughts?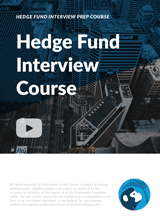 Hedge Fund Interview Course
814 questions across 165 hedge funds. Crowdsourced from over 500,000 members.
11 Detailed Sample Pitches and 10+ hours of video.
Trusted by over 1,000 aspiring hedge fund professionals just like you.
Total Avg Compensation
March 2021 Hedge Fund
Portfolio Manager (7)

$297

3rd+ Year Associate (18)

$269

2nd Year Associate (26)

$251

1st Year Associate (63)

$188

Intern/Summer Associate (15)

$125

Intern/Summer Analyst (200)

$82