Facebook Facepalm? | The Daily Peel | 10/21/21
Silver Banana goes to...

Market Snapshot
The S&P continued its win-streak, gaining 0.37% and chilling just below all-time highs while the Dow rose a respectable 0.43% and the Nasdaq shed a slight 0.05%. Let's get into it.
Markets are tough to navigate. WSO Alpha has everything you need to stay ahead. Get professional research and access to a portfolio with an average annual return of 19.6%. WSO Alpha has got all you need to start gaining; premium research, a 10 year-old portfolio to trade with, and more!
Your first two weeks are free, so check out WSO Alpha before it's too late!
Let's get into it.
Macro Monkey Says
Broken Brexit - You know that "oh sh*t" moment you feel when you check your portfolio and you're down like 20% in a single day? Well, safe to say, the U.K. can relate. The MVP of colonialism is apparently not doing so hot after it dumped it's former brethren in the EU. Export data has gone soft since the breakup of the century began a few years back, indicating a reduction in desire to trade with EU bloc nations.
Now, the divorce was announced years ago, but the separation was finalized on Jan 1 of this year, right where that second massive decline is in the below chart. EU bloc nations represent about half of U.K. export buyers. This could not have come at a worse time either. As does every major economy, the U.K. needs to be firing on all cylinders to combat the horrific decline caused by a little thing called COVID.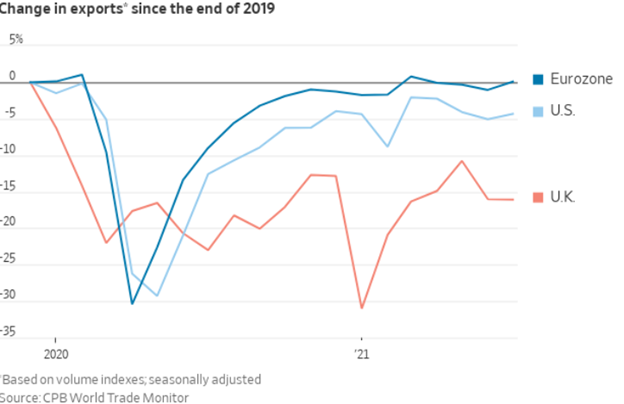 S&P 500 Switcheroo - In case you weren't aware, tech stocks make up a pretty big portion of the S&P 500. 28%, to be exact, but S&P Dow Jones Indices is now looking to chill that out a little bit. The index provider is reportedly considering reclassifying Visa, Mastercard, and PayPal as financial stocks to open up some breathing room in the tech sector.
While it's not completely crazy for S&P Dow to reshuffle sector classifications, the fact that Visa and Mastercard weren't already considered financials is creeping me out a little bit. It looks like these changes will be made, although the timeline isn't exactly clear. The chart below shows the effects on the sizes of certain sectors after previous large reshufflings were made, most notably, reclassifying Facebook and Google as Communication Services as opposed to Information Technology.
Still, this doesn't do much to help the roughly 1/5th of the index weight that is taken up by five tech stocks alone. This switcheroo would make financials likely the second biggest sector behind tech, because, well, Apple alone is worth slightly over 5 Visas.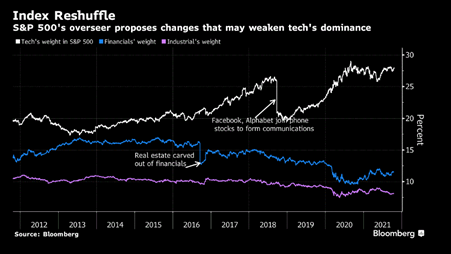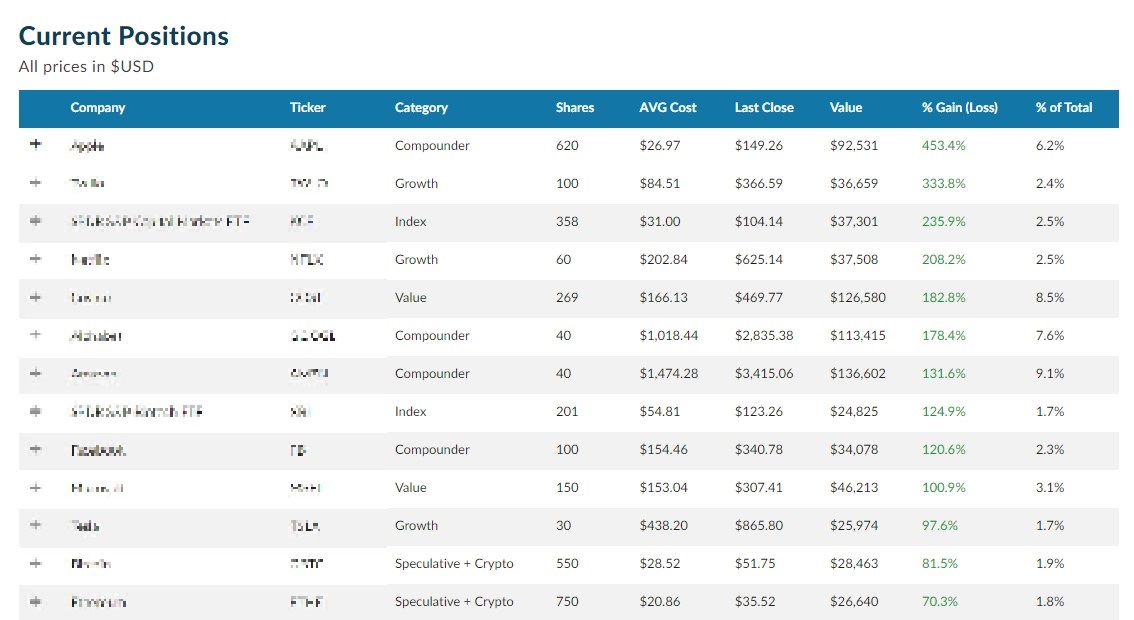 Despite having a rough September, the WSO Alpha portfolio is still up over 300%.
This is THE portfolio you don't want to miss. WSO Alpha has
Historically outperformed the S&P, Nasdaq, and Dow
An unmatched Risk/Reward profile
Professional research reports
And more!
Did we mention that the first 2 weeks are completely free? Sign up for Alpha before it's too late!
What's Ripe
Pinterest ($PINS) - Uh yeah...so this is a weird one. Pinterest, the social media app your mom find those DIY projects on, surged 12.8% yesterday on news that, apparently, PayPal is considering a $45bn acquisition of the firm. Presumably, this comes as part of PayPal's quest to become the next superapp - the U.S. equivalent of Alipay, so to speak. As great as that sounds, investors sure as hell disagreed, sending $PYPL down 4.91% on the day.
ContextLogic ($WISH) - Online shopping firm ContextLogic, aka Wish, came back to life, gaining the most it has in a single day since June. The firm reports earnings on Nov 10th, but knowing what this stock is, I highly doubt it has anything to do with that. The stock was one of the top three names talked about on social media yesterday. In classic meme stock fashion, FinTwit and Reddit came alive with trading volume exploding to 3x it's 20-day rolling average and shares taking a 14.5% ride.
What's Rotten
Novavax ($NVAX) - Although vaccines are all the rage right now, vaccine maker Novavax can't seem to get it's sh*t together. While Moderna took like 5 minutes to make a COVID vaccine, Novavax is apparently completely incompetent and announced further delays in their COVID vax rollout. Rightfully so, the firm's stock got hammered on this, opening down 23.4% to close the day with a 14.8% loss.
Netflix ($NFLX) - Despite the now annoyingly popular Squid Game having more viewers alone than HBO and Hulu have subscribers, Netflix's Q3 results still came as a disappointment to investors. Shares fell 2.2% on the day of their earnings release, as apparently beating across the board by wide margins wasn't enough. The real disappointment came from their subscriber outlook for next quarter, which was in-line with estimates, but given the premium associated with Netflix's valuation, in-line is basically trash. Like the Peter Parker principle, with great valuation comes great expectations.
Thought Banana:
Facebook Masking Up - No, not that kind of mask. We're talking about the mask you put on when you want everyone to forget who you are and all the f*cked up sh*t you've done in the past. Zuckerberg's empire is reportedly considering a rebranding with a potential name change stealing the show.
In reaction, social media popped off with new name ideas. Faceplant, Fakebook, Zuckerverse, Teenage Wasteland, and The Old People's App, to name a few were some of our favorites. The site has been around for a while and this wouldn't be its first name change. Everyone knows the "drop the 'The', just 'Facebook'" line from The Social Network. But back when the website's exclusive purpose was to rate the attractiveness of female Ivy League students (which somehow caused less harm than the platform does now), it was called Facemash, which is somehow even stupider than the names being tossed around on Twitter.
This is clearly an attempt by the firm to distance themselves from the mess that the website has caused, ranging from presidential election interference to the utter destruction of teenage mental health. Still, no plans to chill out on any of those things were announced. I know you apes are too cool for Facebook, but just keep this in mind when your parents and grandparents and their grandparents ask you why Facebook isn't on their phone anymore.
"Get the f*cking money" - Chamath Palihapitiya
Happy Investing,
Patrick & The Daily Peel Team
Was this email forwarded to you? Sign up for the WSO Daily Peel here.