Fungible, Non-Fungibles? | The Daily Peel | 9/13/21
 Silver Banana goes to...

Market Snapshot
Major U.S indices ended last week on a down note, as macro data along with the Delta variant spooked investors. The Nasdaq lost 0.87%, the Dow fell 0.78%, and the S&P dropped 0.77%.
Markets get cold sometimes, but temperature is something you'll never have to worry about with Miso Robotics AI kitchen assistant. Check out "Flippy", their robot, and you'll see perhaps the only thing in the world that makes a better burger than Gordon Ramsey.
Let's get into it.
Macro Monkey Says
U.S PPI - I would hate to be a dollar bill right now, as inflation looks like its going to continue kicking ass for some time. U.S PPI rose 0.7% in August as opposed to the 0.6% expected, as supply chain disruptions persist. I'm pretty sure it's been like 10 years since the pandemic began, but the lingering of other variants and interdependence of the global economy points to signs of a slow recovery for these supply related issues. Luckily for us, the most impactful price increases appear to have come on things we don't really need, like food rising 2.9% and transportation up 2.8%. Inflation isn't good for anyone, but asset classes do not all suffer equally, so we could potentially see a rotation away from inflation impacted assets like fixed income and into more resistant sources like defensive stocks, real estate, or even BTC.
Apple vs. Everyone - You'd be hard pressed to find a company like Apple that hasn't had some kind of beef in its past, and even harder pressed to find a company that stared the giant in the eyes and won. Well, just last week, a bunch of companies made it to the "we beat Apple" list. While Epic games is most notable, the likes of Spotify and many smaller developers are rejoicing too. The gatekeeper of iOS was ordered by a judge to allow app developers to create a bypass for in-app purchases and send users to their own private paywall, cutting out Apples 15-30% commission. However, we know Tim Cook doesn't take Ls, and this was definitely not a complete win for developers. Apple is still allowed to maintain the 15-30% fee and was not deemed as running a monopoly. So, really it's a half-W, half-L, meaning we'll have to meet in the middle and call this one a Q for everyone.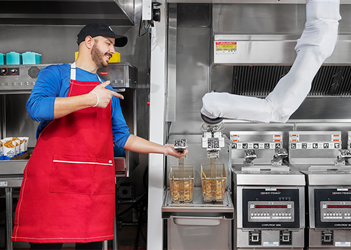 Miso Robotics uses a cloud-connected AI platform to help autonomous robotic kitchen assistants perform tasks such as frying and grilling alongside chefs in a commercial kitchen.
Their ingenious robot-endearingly named "Flippy"-has already fried 175,000+ pounds of food and flipped 10,000+ burgers across QSR locations, including White Castle.
In fact, Miso Robotics is working with 10 of the top 25 brands in the QSR industry with dozens of pilot programs underway!
Learn more and invest in Miso Robotics right here.
What's Ripe
Affirm Holdings ($AFRM) - Shares in the "too-broke-to-pay-full-price" payment services firm, Affirm, soared 34.4% on Friday after earnings came in solidly under expectations. Don't worry, you read that right; Affirm reported a GAAP loss of $0.48/share on $262mm in revenue as opposed to the expected $0.29/share loss on a top line of $226mm. Since investors no longer care about money, the firm's 5x increase in registered merchants using the service stole the show.
Facebook ($FB) - Okay, yes, Zuck and crew only moved 0.18% on Friday so not exactly too "Ripe", but apes, we have to talk about this. Facebook has released the latest iteration of AR/VR glasses to the public, and unlike those from Google and Snapchat, theirs doesn't appear to double as contraception. A partnership with Raybans will help with that I guess, but just in case the company's products didn't run enough of your life already, now you can wear their newest product right on your face all day long!
What's Rotten
Kroger ($KR) - The nation's largest supermarket chain took a 7.5% tumble on Friday as investors grew concerned with margin pressures, among other things. Same store sales were down 0.6% for the quarter, but the average amount spent by customers grew, even against some difficult YoY comps. Inflation, supply chain cost increases, and apparently a spike in theft also caused concern. Seriously, how bad does theft have to be to come up in a 10-Q?!
Thought Banana:
Fungible, Non-Fungibles - Dogs, people, and NFTs are all weird. Combine them, and you get something even weirder, as pointed out by Matt Levine in his Money Stuff blog. Those non-fungible tokens everyone's so hyped up about? Turns out you can make them fungible...at least partially, as done recently with the famous Doge meme-image. Here's the scoop: a doge NFT recently sold for $4mm, then, the owner fractionalized his new purchase into 16,969,696,969 slices and sold 20% for $45mm, giving a picture of a dog a market cap of $225mm. If your blood isn't boiling so hot right now that your head is spinning, I don't even know what to say to you. NFTs seem to represent a great experiment in the value of scarcity, showing that literally anything that is made scarce can be worth millions, assuming you have thousands of lunatics to convince.
Wise Investor Says
"Bull markets are born on pessimism, grow on skepticism, mature on optimism and die on euphoria."
-Sir John Templeton
Happy Investing,
Patrick & The Daily Peel Team
Was this email forwarded to you? Sign up for the WSO Daily Peel here.
ADVERTISE // WSO ALPHA // COURSES // LEGAL