MARKETS
Trade: China lowered import tariffs on more than 850 products to help make up for local shortages. Top of that list is frozen pork-China's hog population has been decimated by an African swine fever that broke out last summer.
Trade x2: President Trump said he'll sign the "phase one" trade deal on January 15.
Want Morning Brew Daily Served Fresh to Your Inbox?
Drop Your Email Below...

AUTO
He's Ghosn and He's Not Coming Back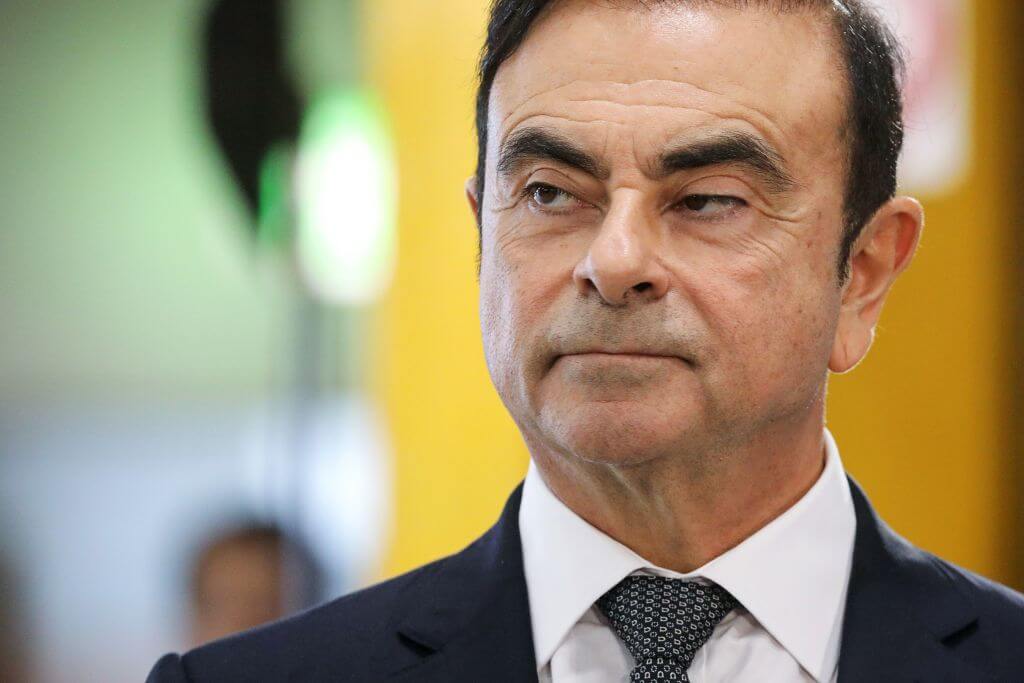 There's your friend who goes a little too hard planning New Year's, and then there's Carlos Ghosn. This week, the former head of the Renault-Nissan-Mitsubishi Alliance wriggled out of house arrest in Japan in a daring escape to Lebanon that baffled Japanese authorities, Ghosn's lawyer, and the press mob that's closely monitored him since his November 2018 arrest.
Ghosn had been awaiting trial in Tokyo. By jumping bail, he won't be able to return to Japan without going to jail, a legal expert told the AP. "This is going to end in basically a stalemate with him spending the rest of his life in Lebanon," which does not have an extradition treaty with Japan.
The origin story
A businessman who holds French, Lebanese, and Brazilian passports, Ghosn "showed up in sunglasses and a pinstripe suit with plans to carry out an American-style restructuring of a failing Nissan" in 1999, writes the NYT. "Le cost killer," as he was known, became a celebrity executive by rescuing the Japanese automaker from the verge of bankruptcy.
But despite earning almost $17 million in 2017, he felt underpaid compared to other auto execs.
A Nissan subsidiary reportedly bought properties for Ghosn's personal use-which triggered the investigation that eventually resulted in his arrest for underreporting compensation by ~$80 million, among other financial crimes.
Ghosn's response? It's a conspiracy between prosecutors, government officials, and Nissan execs.
The escape
Ghosn's wife reportedly worked closely with a team of associates over several weeks to plan the escape via private jet, according to the WSJ.
Media reports and Japanese officials speculated about government involvement in the escape. NYT sources said one of Ghosn's lawyers orchestrated the plan with Lebanese government officials (Ghosn entered the country with a Lebanese ID and French passport).
Why Lebanon? Ghosn grew up there and it has a friendlier legal system. While most Japanese view Ghosn as a criminal, many in Lebanon see him as a hero.
Looking ahead...Ghosn's readying his tell-all for next week.
REGULATION
New Year, New Rules

2020 came in with confetti, sloppy kisses, and a mountain of new regulations for U.S. businesses. Let's take a tour.
Privacy: The California Consumer Privacy Act (CCPA) is now in effect-think of it as Europe's GDPR privacy law but with better tacos. Californians will now be able to a) ask companies what personal data is being collected and b) request that it be deleted. Users can also have the option of making sure their data isn't being sold by companies. Two more points:
CCPA is one of the strictest privacy laws on the books in the U.S.
Most Big Tech companies CCPA could impact are based in California.
Gig economy: On Monday, Uber and Postmates sued who else-California-over a contentious new law known as AB-5. The bill forces gig economy companies to treat workers as employees, not independent contractors.
Overtime: The Labor Department's new rules will make an estimated 1.3 million American workers newly eligible for overtime pay. The changes, which raise the salary threshold for non-exempt workers entitled to overtime pay, are less aggressive than an Obama-era proposal that floundered in the courts. It's Labor's first overtime update since 2004.
Minimum wage: It keeps getting higher across the country. More than 20 states are bumping up pay for minimum wage workers this year, while Seattle's large employers will now pay a nationwide-high of at least $16.39/hr to employees. Meanwhile, the federal minimum wage has remained parked at $7.25.
Best of the rest: Legal pot in Illinois. Controversy over a ban on crocodile products in Louisiana. New York eliminating cash bail for most nonviolent crimes.
MARKETS
We Call Bull on 2019

Global stocks closed out 2019 with one of their best performances in years as investors stiff-armed trade war concerns and slowing global economic growth. Here are the 2019 gains for the three major U.S. indexes:
S&P: 28.9%. The best-performing stocks were chipmakers AMD, Lam Research, and KLA Corp.
Nasdaq: 35.2%. The tech heavy index had its best annual performance in six years.
Dow: 22.3%. Apple and Microsoft led the way.
And it wasn't just the U.S. Stock markets around the world posted gains of more than 20% last year.
Fun fact: The best performing stock of the decade in the S&P 1500 was Patrick Industries, which gained more than 4,500% over the past 10 years. Patrick is not, in fact, an AI startup, nor is it competing in the streaming wars. It makes component parts for industrial uses like RV production and housing construction.
Looking ahead...investment banks are forecasting more of the same for markets in 2020.
RETAIL
Many Happy Returns
Jan. 2 is National Returns Day, the busiest day of the year for holiday returns. UPS expects to ship 1.9 million ill-fitting sweaters, books you've already read, and other unwanted gifts today, a 26% increase over last year.
More online shopping leads to more returns. E-commerce sales grew 18.8% this holiday season, according to Mastercard.
Zoom out: Retailers feel like they need to offer convenient returns to compete for shoppers. But...it's scary expensive. 2018 merchandise returns accounted for $369 billion in lost sales for U.S. retailers, per the National Retail Federation and Appriss Retail. That means about 10% of sales are returned to retailers every year.
Looking ahead...in an industry with already-thin margins, this isn't sustainable. Some retailers are taking steps to curb return abuse, while return-focused tech startups are hoping they can offer solutions.
WHAT ELSE IS BREWING
Former NBA commissioner David Stern died at 77.
Huawei, the Chinese telecom equipment maker and favorite punching bag of the Trump administration, posted a record $122 billion in revenue last year.
Google will stop using the "Double Irish" tax loophole.
The FDA will reportedly announce a ban on many flavored e-cig cartridges in the coming days.
India's New Year's resolution: attempt another moon landing after a failed try in 2019.
U.S. highway safety officials will investigate a fatal crash of a Tesla vehicle in California on Dec. 29.
WHO CELEBRATED FIRST?
We'll give you two cities; you have to pick the one that celebrated New Year's first.
New York or Rio de Janeiro
Dubai or Moscow
Tokyo or Sydney
Cape Town or Rome
Want Morning Brew Daily Served Fresh to Your Inbox?
Drop Your Email Below...

WHO CELEBRATED FIRST ANSWERS
1. Rio is ahead of New York
2. Dubai is ahead of Moscow
3. Sydney is ahead of Tokyo
4. Cape Town is ahead of Rome