If you build it they will come | The Daily Peel | 11/18/21
Silver Banana goes to...

Market Snapshot
Tough days for markets are fun days for stock pickers, at least the good ones (not that I would know), and yesterday was one of those days. The Dow led the fall, losing 0.58%, while the Nasdaq fell 0.33%, and the S&P lost 0.26%. Let's get into it.
So you need new shirts. Why not get custom for cheaper than mass-produced? Tailor Store makes every shirt custom, so it fits you perfectly. All for a great price!   
Check out Tailor Store and dress to 9s
Let's get into it.
Macro Monkey Says
New Home Construction - The real estate market is, in a word, hot. A big part of that temperature level, and as it relates to the state of the market going forward, is the creation of supply through new home construction. Luckily, those figures came in yesterday. 
Housing starts for October came in at a little over 1.5mm, while soon-to-be housing starts (aka, building permits) reached 1.65mm. The most important figure, being housing starts, saw a contraction from September, falling 1.6% month-over-month. Remember, price is a function of supply and demand, and as demand for homes has skyrocketed, supply hasn't been able to keep up, meaning prices go boom. If you're looking to get into a new home soon, well October didn't help too much. Demand continues to far outstrip supply, meaning you're gonna need to save a lot of dough to get the job done. Hopefully you've owned a good few What's Ripe names in your day just as they become Ripe, that'd help.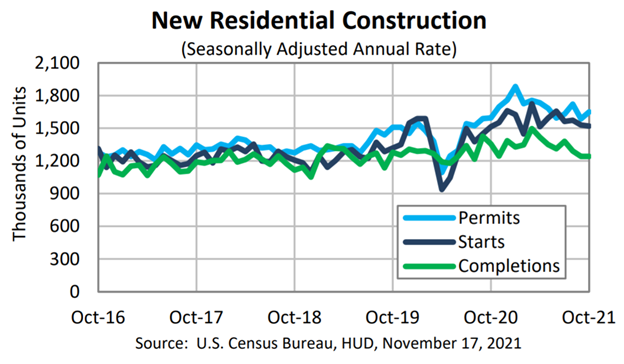 Run it Back - Remember when everyone was freaking out about the federal government's debt ceiling about a month or so ago? Are you ready to run it back? 
Treasury Secretary Janet Yellen, colloquially referred to as JYell, gave a stark reminder and warning that the next debt ceiling will be reached as soon as December 15th. This is not good, like not even a little bit, for a plethora of reasons, so let's dive in to a few.
First of all, many critics have said that U.S. federal spending has already reached late Friday night levels of drunkness. As you can see below, the U.S. currently owes just under $29tn to landing counterparties around the globe. That figure is closing in on 126% of the nation's GDP. Historically, leaders, analysts, and investors alike have warned that exceeding 100% debt / GDP is a bad sign for long term economic growth, just look at Japan.
But what if I told you slowing long-term growth isn't even the worst part? Halloween has past, but get ready to be spooked.
Government debt is issued on a floating rate basis. That means that interest payments are determined by the prevailing Federal Funds and market rates at the time in which the payment is made. Right now, rates are still at rock bottom. But, as we've heard seemingly around the clock lately, the Fed is looking to increase rates as soon as next year, potentially multiple times before FY'23. Doing some quick math shows that for every 1% increase in interest rates, the federal government's interest obligations increase by $300bn, a shit-ton even by U.S. government standards. This only adds to the country's already arguably egregious spending, and consider we're about to drop $1.2tn over the next decade on infrastructure, our spending capabilities are not looking good.
See, I told you it was gonna be spooky, not my fault if you kept reading. What we really need here is a financial advisor, maybe the U.S. could look into some or at least check out Betterment to manage their funds. After all, it is our money.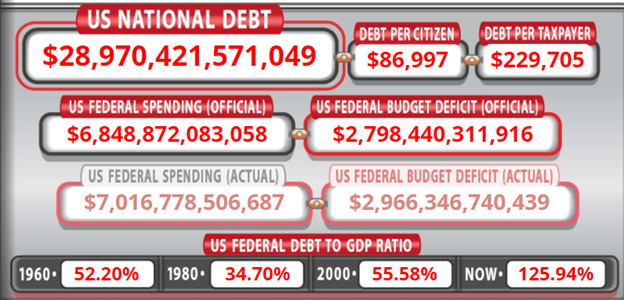 Shirts that fit like they were made for you
Say goodbye to mass-produced clothing and hello to clothing made for you. Using advanced technology and algorithms, Tailor Store makes every dress shirt custom, so it fits you perfectly.
Tailor Store only produces by order and keeps no inventory, resulting in less waste and excessive production. They take pride in fully owning and operating facilities, ensuring responsible and fair production.
With over 1 million dress shirts sold, rest assured you'll feel as good as you look wearing custom-tailored clothing true to your unique fit and style. 
Discover the perfectly fitted shirt
What's Ripe
TJX Companies ($TJX) - You might not shop at any TJX stores, but I can guarantee your mom does. And boy did she help them have a good day yesterday. Continuing the week of retail earnings reports, TJX beat across the board. Shares gained 5.8% after opening up almost 10.5% on both revenue and earnings growing 20%+ over last year.
Maxar Technologies (MAXR) - Space is allegedly the final frontier. With renewed interest in space travel through tourism, exploration, manufacturing, mining, etc. - largely reignited by Elon and Jeff - space stocks have been popping up like Whack-A-Moles. Yesterday, Maxar Technologies, a satellite firm that does a ton of outer space, way-too-sciencey-for-me type of stuff got a sizable boost from Morgan Stanley as a "top pick." Not a bad designation, and with that 8.7% boost, they ain't complaining. 
What's Rotten
Rivian Automotive ($RIVN) - Volkswagen sold over 2.8mm units of it's classic passenger car brand alone in 2020. Rivian has sold exactly zero since 2009. Yet, their valuations are almost identical. After Rivian's 15.1% fall, aka reality check, yesterday, the firm is officially only the fourth most valuable car brand in the world, behind Tesla, Toyota, and VW. What world do we live in?
Target ($TGT) - Despite a decently strong earnings report, Target's figures missed the...target. Anyway, after this week's more-than-solid retail report, expectations are elevated for the big dawg retailers reporting this week. Target beat across the board, with revenue coming in almost $1bn above expectations while earning $3.03/sh vs $2.83 expected. Even with elevated guidance to go along with those, the market couldn't be pleased, sending shares down 4.8%.
Thought Banana:
Nvidia Earnings - Nvidia made analysts, and especially their earnings expectations, look like absolute morons yesterday. After market, the leading chip and GPU firm announced a sizable beat sending shares nowhere but up afterwards. Not only is Nvidia a top 10 holding in the S&P 500, but their earnings can give us some insight in the disgustingly scrambled global semiconductor supply chain. 
Long story short, it's not as bad as many industry watches expected. Revenue came in at $7.1bn, well above the $6.8bn that was anticipated. On that revenue, the firmed earned $0.97/sh, easily beating guesstimates and clocking in an 83% jump from this time a year ago.
So, either 1) Nvidia is completely goated as beating the sh*t out of earnings during a supply chain crisis is near impossible or 2) the chip global market is making a recovery. Place your bets now, apes.
"Investing should be more like watching paint dry or watching grass grow. If you want excitement, take $800 and go to Las Vegas." - Paul Samuelson
Happy Investing,
Patrick & The Daily Peel Team
Was this email forwarded to you? Sign up for the WSO Daily Peel here.