IP-No | The Daily Peel | 11/30/21
Silver Banana goes to...

Market Snapshot
FUD Friday came and went, followed by make-up Monday, where markets largely scraped back last week's losses. The Nasdaq led, gaining 1.88% while the S&P gained 1.32% and the Dow put up 0.68%.
Professional research is hard to come by and expensive, but it doesn't have to be. WSO Alpha has professional research, a 10 year-old portfolio to trade with, and more!
Let's get into it.
Macro Monkey Says
National Holiday - I hope everyone enjoyed our nation's most important Holiday this past week. No, not Thanksgiving, obviously I mean Black Friday - way more important. The last Friday of November is our one chance to truly embrace the materialistic consumerism that drives our economy, not to mention the fat discounts most stores give, so I hope you did your part.
Anyway, Black Friday 2021 was an interesting experience. For the first time in recorded history, Americans saw a decline in online Black Friday shopping, giving brick & mortar their first W since Bezos came on the scene. Sounds surprising, but this makes a lot of sense. Last year, basically all shopping was done online as a result of you know what. This year, shoppers were understandably just trying to get out of the house for their clothing and houseware needs.
All in all, the drop in online shopping on Black Friday wasn't anything huge. Adobe Analytics puts 2021 figures at $8.9bn while 2020 was a hair above at $9bn.
IPOh Sh*t - Froth is defined as a "a mass of small bubbles in liquid caused by agitation, fermentation, etc." (thanks Google). There is arguably no better way to describe financial markets in recent years, especially high growth stocks, even more especially high growth tech stocks, and most especially to high growth tech stocks that just IPO'd. Well, it looks like that froth is finally fading away, at least in part. Over half of companies that went public this year and raised over $1bn in doing so are currently trading below their IPO price.
Of course, this data has emerged after a brutal selloff on Friday that mostly consisted of a flight out of risky assets. IPO's are at the top of that list, and this flight to safety can be seen in part by the performance of the Renaissance IPO ETF, $IPO. This fund has sank over 15.4% since peaking back in February, a direct look at the cool down of excitement around these opportunities.
Analysts argue that the valuations assigned to these firms at their debut were largely propped up by massive VC investment from firms like Tiger Global and Softbank. Despite many of the highest profile 2021 IPOs seeing staunch declines since they began trading, the initial pops as seen in stocks like Robinhood and DiDi made sure those VCs saw their payday. 
Now, things are different. For reference, Robinhood has fallen over 62% since its public peak, DiDi is down over 50% from peak, and Oatly has sank close to 67%. Hindsight is 20/20, but these companies were basically all hailed as the next Amazon or Google within their industry when they dared to go public. To no surprise, the short-term market pricing mechanism was wrong - super wrong. But hey, now you get to decide: are these companies at generational discounts? Or do young companies, some with literally $0 in revenue, maybe deserve to to shed market cap?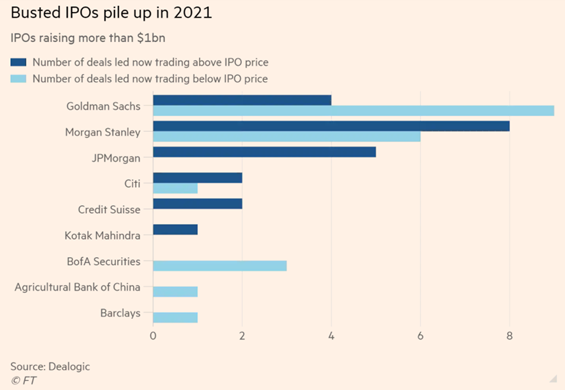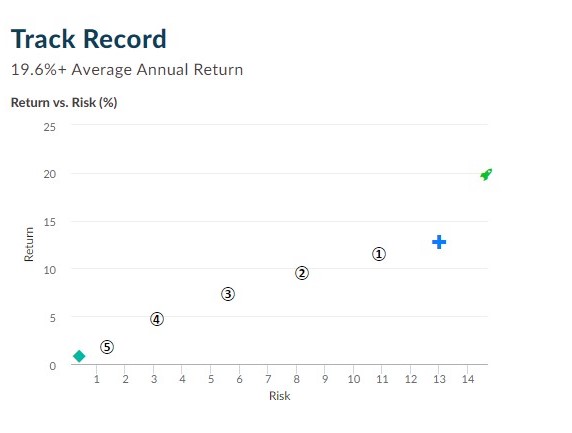 WSO Alpha has an average annual return of 19.6%...for an unmatched Risk/Reward profile. 
What's Ripe
Tesla ($TSLA) - Reportedly based in Palo Alto, we're pretty sure Tesla actually just lives in the mainstream news cycle. There's also something going on, and yesterday was no exception. An email from CEO/Technoking Elon Musk was "accidentally leaked" (yeah right) that showed Mr. Musk's commitment to preserving incremental margin improvements over rushing out deliveries at a higher cost. Investors got excited, sending shares up another 5.1%.
Chip Stocks ($NVDA, $AMD, $QCOM) - Nothing but green in the semiconductor industry yesterday as investor concern witnessed on FUD Friday mellows out a bit. Having extra time to digest the news on Omicron seems to have helped, much like leftover turkey. Semi stocks were relieved as investors realize global supply chains probably aren't going to sh*t again and the existing trend of improvement continued. With that, Nvidia soared 5.7% while AMD rose 4.9% and Qualcomm got a nice 4.5% boost. Hell, even Intel rose, putting up 2.4% on the day.
What's Rotten
Twitter ($TWTR) - Working in finance, we know burnout pretty well. But, perhaps no one knows burnout better than Jack Dorsey, CEO of Square and (soon to be former) CEO of Twitter. That's right, yesterday Twitter announced Dorsey's plans to step down as CEO of the social media site, promoting CTO Parag Agrawal to the top position. The market, apparently, had mixed emotions. Shares briefly rose in response only to close the day down 2.7%. 
Novavax ($NVAX) - Vax makers are facing a mixed bag of performance after the emergence of the Omicron strain. Unfortunately for Novavax, that mixed bag is once again purely on the downside. Not only did Novavax get rolled by Moderna, Pfizer, and others in OG COVID vax development, but now, the firm is struggling to even get their first shots out, with another setback in India sending shares down 11.0% yesterday. I'm sure they're trying their best, but at this point, it's getting embarrassing.
Thought Banana:
What a Beast - The Superbowl is often considered the most valuable piece of ad real estate in the media landscape. Snatching up 96.4mm viewers in 2021 and averaging well over 100mm over the past five years, this seems to makes sense. However, in the age of streaming and individual content creation, this sentiment likely won't hold true for much longer. 
Exhibit A: Jimmy Donaldson, aka MrBeast, is a YouTube creator who eats Superbowl viewership numbers for breakfast. Most notably, this past week, MrBeast produced and released a video in which he and his team recreated every event from the super-smash hit Netflix show Squid Game. The games, as announced in the video, cost over $3.5mm to recreate, so this was no small feet. Safe to say the investment in this arguably absurd idea paid off, as the video has generated well over 115mm views in just a few days. 
Not only that, but MrBeat's video, totaling $3.5mm, cost nearly 3x more per production minute than the actual show. The winner of the games received $456,000 while many others were given a couple thousand for just showing up and having a good time. It was basically an exercise of just tossing out money left and right, and with 115mm views in 5 days, the video could very well get more views than the actual show did. Wild.
"Men, it has been well said, think in herds. It will be seen that they go mad in herds, while they only recover their senses slowly, and one by one."           
- Charles Mackay
Happy Investing,
Patrick & The Daily Peel Team
Was this email forwarded to you? Sign up for the WSO Daily Peel here.