Luck Charms saving the world | The Daily Peel | 11/8/21
Silver Banana goes to...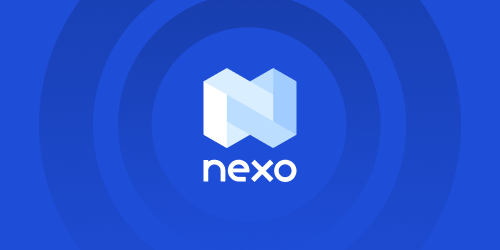 Market Snapshot
The amount of money companies are reporting this earnings season is unprecedented and so the market gains charge on. The Dow rode highest on the earnings wave on Friday, gaining 0.56%, while the S&P gained 0.37% and the Nasdaq rose 0.2%.
Crypto isn't just about buying and selling. With Nexo you can earn a fix rate by lending out your crypto, or if you need some cash, you can borrow using your crypto as collateral.
Earn up to 12% by lending or borrow for as cheap as 6.9% today, there's nothing to lose.
Let's get into it.
Macro Monkey Says
Jobs - They must've put Oprah Winfrey in charge of the labor department last month because everybody is getting a job. The U.S. economy added 531,000 jobs in October, smashing last month's numbers as well as economist expectations. Furthermore, numbers from both the August and September labor reports were revised upward - by a lot. Not only is this a great sign for Main Street USA, but gives us even more firing power for insulting economists.
September's somewhat concerning original number clocked job additions at +194,000. Now, that figure has been revised up to +312,000, an addition of 118,000 jobs. August's figure was jacked up to +483,000 from +366,000, an additional 117,000. Counting is hard, but something tells me professional economists in the largest and most advanced economy in the history of the world should be able to do a little better. 
As for October, expectations placed additions at +450,000, coming in 81,000 below the reported figure. Meanwhile, unemployment fell further from 4.8% to 4.6%, a new low since the start of the pandemic and another example of economists being wrong. 
Basically, the economy is firing on all cylinders. It's a good time to be an American. However, keep in mind, a strong job market gives JPow a green light to raise rates sooner rather than later, but we'll have to wait until December 15th to hear his thoughts. Until then, keep raking in the dough.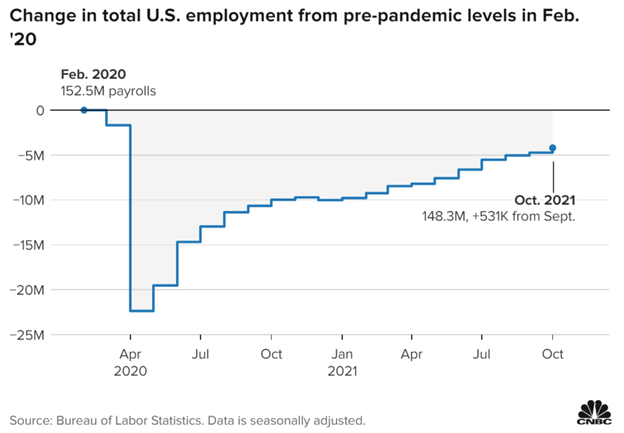 Buffett at the Buffet - We are once again able to confirm that the 91 year old man at the helm of the nation's 8th most valuable company does in fact, still got it. Warren Buffett's Berkshire Hathaway reported earnings on Saturday, in the most Buffett way possible as he says this gives the market time to "digest" the results, and things are going well. As Berkshire relies on insurance, utilities, and railroads, for the most part, the reopening has been a big help. Operating income boomed 18% YoY to $6.47bn, but the real show stopper is the cash pile Warren and Charlie have built. Now at record levels, Berkshire reported cash holdings of $149.2bn - larger than BlackRock's entire market cap. Not much is known around the firm's plans for deploying that cash. Berkshire bought back around $7.6bn of stock in the period, but otherwise, Buffett has only hinted that the firm is keeping it's eyes open for acquisitions. Either way, we know that the pair of billionaires will still be getting breakfast from McDonald's, only after this quarter, they might have to make it a Happy Meal. 
The Only Crypto Platform You'll Ever Need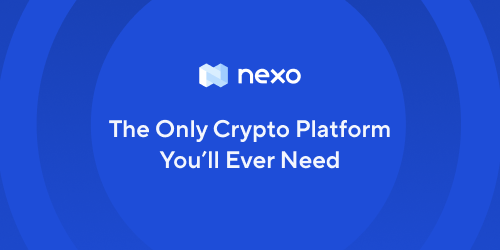 Nexo is a trusted and easy-to-use crypto platform where you can securely store your crypto and earn up to 12% per annum, paid out daily.
You can also buy, sell and swap one asset for another with more than 150+ exchange pairs to choose from.
And if you need cash but don't want to sell, you can place your crypto as collateral and borrow with rates starting from 6.9% APR.
2.5M+ people already trust Nexo with their crypto. So whether you're just getting started or searching for a better way to access crypto markets, start today with Nexo!
What's Ripe
Airbnb ($ABNB) - Airbnb went public during a tough time in their industry, but resilience pays off, both literally and figuratively in this last quarter. Revenue grew 67% from the same period last year to $2.24bn, while net income stole the show, skyrocketing 280% to $834mm. Shares surged on the report, climbing 13% to close the week.
Pfizer ($PFE) - Saving the world once wasn't enough for the team at Pfizer. The firm behind the pandemic-healing vaccine has come out with exciting data around its new COVID medicine, and shares were duly paid, gaining 10.9% on Friday. Pfizer announced that its experimental antiviral pill targeting COVID-19 reduced hospitalization and death in high-risk adults by upwards of 90%. In addition to completing the best double-whammy in history, Pfizer is finding more ways to profit off the pandemic. Win, win, right?
What's Rotten
Peloton ($PTON) - The company behind one of the world's preeminent exercise bikes has had one of the more unusual - and volatile - last 12 months. Friday did not help to ease that reputation. Shares plunged 35.3% after Q3 earnings revealed revenue barely grew 6% YoY and the company's core business line of bikes and treads fell 17%. Definitely not what I would call a healthy report, but Planet Fitness was loving it, gaining over 15% since Wednesday's close. 
Moderna ($MRNA) - One man's trash is another man's treasure, and while Pfizer was certainly treasure last week, Moderna was nothing short of complete trash. Shares in the now, household-name biotech firm plummeted 15.6% on Friday after vaccine sales came in $1bn short of analyst expectations for the quarter, clocking in at $4.8bn. Shares are now down over 50% from their peak and some bargain hunting analysts smell a deal.
Thought Banana:
Climate Saving Potatoes - "Breakthrough" would be an understatement. Chinese researchers and scientists have developed a method of converting carbon dioxide, that pesky compound responsible for much of climate change, into starch. Yes, that starch that's in everything from potatoes to Lucky Charms and is responsible for a huge amount of all agriculture on Earth. Starch is generally produced from wheat and maize (corn) plants, one of the most widely cultivated crops globally. The process developed by the Chinese research team, however, converts 5g of Co2 per hour into starch, and while I don't know exactly how that works, experts say the process is 10x more efficient than the agricultural method. Experts also point out that developing this process at large enough scale could rapidly remove Co2 from the atmosphere while producing food more efficiently, thus helping out with food insecurity. Wow.
"Betting your future on old-line companies is riskier than joining with entrepreneurs and startups." - Cathie Wood
Happy Investing,
Patrick & The Daily Peel Team
Was this email forwarded to you? Sign up for the WSO Daily Peel here.