Mar 17, 2017 - Morning Brew Daily
TWEET OF THE DAY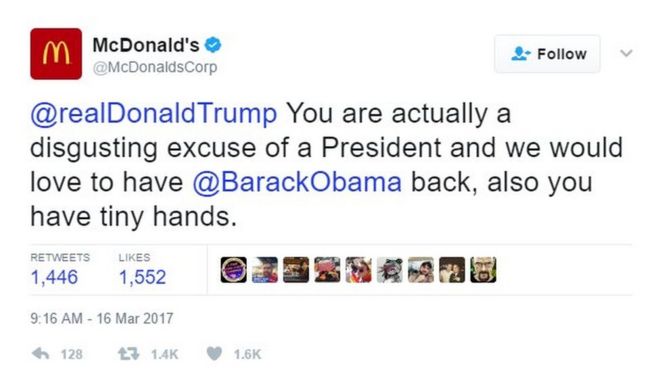 McDonald's quickly deleted the tweet, saying its account was compromised. But the internet is forever.

MARKET CORNER
Market Snapshot
Following the Fed-inspired rally, U.S. stocks finished marginally lower on Thursday as losses for healthcare and utilities companies drove the market into the red
The benchmark Stoxx Europe 600 gained 0.7% to reach its highest close since 2015 after preliminary results suggested a pro-EU winner of the Dutch election. The Euro climbed to its strongest position in five weeks
Walmart Pushes Harder Into E-commerce…
...By acquiring indie fashion startup ModCloth. It's not the retail giant's first digital buyout-the Arkansas-based chain bought Jet.com for $3 billion in August, and outdoor outfitter Moosejaw last month. San Francisco-based ModCloth has a cult-like fan base, and has been hailed as "feminist AF" by Cosmo. Needless to say, some ModCloth fans aren't happy, but executives are trying to keep the outlook positive. Walmart (+0.20%) is trying hard to evolve...we'll believe it when we see it.
Always and Forever
…As Elon Musk promises to stay grounded with Tesla (+2.47%) if SpaceX goes to Mars. Amidst SpaceX bagging the U.S. Military Contract to launch into space and the Trump Administration's plans for a manned Mars Mission, Musk's #winning streak has thrown people for a loop. The biggest question at Tesla's earnings call was about Musk's plans with Tesla amidst rumors of being Trump's "Chosen One" for Mission Mars. Our man was quick to shoot these questions down, assuring listeners that he would be with Tesla until"someone kicked him out"
Now, as Tesla turns to Wall Street to raise more than $1 billion before the launch of the Model 3, it's time for Brewers to weigh in. Will Tesla stock maintain SpaceX-like trajectory as the Model 3 proves a wild success, or will it reverse course as the company's large-and-rapid cash burn becomes too much for investors to stomach? You tell us.
GoPro Can't Always be a Hero
…...Especially not after cutting 270 jobs.… The action-camera manufacturer, (+15.78%), had a pretty tough 2016. Product recalls and delayed releases on flagship products (like the Karma drone) caused the company to lose around $115 million. Fast forward, and GoPro has announced that it will be cutting operating costs by $200 million, among other things, to stop the bleeding and return to profitability. Reading between the lines––that's 270 employees being given the boot, bringing the total "reorg" to 470 employees (or 30% of the company) since last fall. Post-announcement, GoPro's stock soared, but the question remains––what product is on deck? Hopefully, for GoPro, the sky is not the limit.
Silicon Arctic
…Canada's innovation fund is set to invest $600 million this year into about a half dozen research groups. Prime Minister Justin Trudeau has placed emphasis on technology as a strategy for expanding growth in the country. With talent and startups looking to Canada as a potential home base after the Trump travel ban fiasco, Trudeau is doubling down on tech.
What Else Is Happening…
Nutella maker Ferrero is buying American confectioner Fannie May
3.2 million people quit their jobs in February, the highest since 2001
The controversial H-1B Visa program may be stifling wages, new research says
Samsung's flashy foldable phone-tablet hybrid is said to be on the way
Economic Calendar
Wednesday: Oracle (+) Earnings; Consumer Price Index (+/-); Retail Sales (-); Fed Rate Announcement
Today: Audi, Adobe (+), Lufthansa (+), Dollar General (+) Earnings; Weekly Jobless Claims (+); Housing Starts (+)
Tomorrow (Friday): Progressive, Tiffany Earnings; Consumer Sentiment; Industrial Production
WATER COOLER
Trump's America: The Budget
This just in: there's some well-anticipated Washington buzz to end your week. Yesterday, the Trump administration delivered on its campaign promise to reshape the budget, releasing a preliminary proposal for 2018. It covered discretionary spending, set by congressional budget resolutions, rather than mandatory spending, which is informed by other laws. Here's a closer look:
The Environmental Protection Agency (-31%), State Department (-29%), Agricultural Department (-21%) and Labor Department (-21%) would take the biggest hits. Other notable cuts took shape in the Commerce Department, eliminating the Economic Development Administration, which provides loans and grants for struggling communities.
The Defense Department would see the largest bump (+9%), followed by Homeland Security (+7%) and Veterans Affairs (+6%). Funding for the Defense Department would increase the size of the Army and Marine Corps, while also increasing spending for Navy ships and Air Force combat planes.
As expected, funding for Homeland security is intended to bolster border patrol and eventually build a wall between the U.S. and Mexico.
In total, the proposal would eliminate 19 agencies to fund increases in spending elsewhere. And, interestingly, the proposed budget would reduce funding for the Internal Revenue Service by $239 million. Guess we're getting better at doing our taxes?
THE BREAKROOM
Interview Question of the Day
Think of a number. Add 7 to it. Subtract 2. Subtract your original number. Multiply by 4. Subtract 2. What number are you left with? (Answer)
Startup of the Day
Health-insurance startup Clover Health is raising about $120 million in new capital at a valuation of more than $1 billion. Clover is one of a few startups ambitious enough to launch its own insurance business-quite a feat in a highly regulated sector that requires large capital outlays. Its focus is on using data to provide better management of chronic conditions as well as reducing emergency-room visits and other high-cost hospitalizations. You do you, Clover.
Food for Thought
Cereal saved AirBnb. Yep, you heard that right. After maxing out a Binder full of credit cards and racking up tens of thousands of dollars in debt, founders Brian Chesky and Joe Gebbia were running out of options. Cereal seemed like the obvious choice, right? After selling 1,000 boxes of election-themed Cheerios (Obama O's and Captain McCain's to be specific), AirBnb was back on its feet and on its way to a $35 billion valuation.
Want Morning Brew Daily Served Fresh to Your Inbox?
Drop Your Email Below...