Paying someone to take your money? | The Daily Peel | 8/6/21
We were all in the green yesterday as both the Dow and Nasdaq rose 0.8% while the S&P trailed slightly behind at 0.6%. Let's get into it.
What's Ripe
Penn National Gaming ($PENN) – Dave Portnoy was having a great time watching $PENN shoot up yesterday, so expect his tweets to be even more unbearable for some time. The gaming firm announced the acquisition of Canadian sports gambling operator, Score, for $1.7bn, adding to the firm's slate of good ol' degeneracy. The acquisition expands the firm's international breadth while bringing in much needed technology for the digital era of gambling. Unfortunately what it doesn't do, is help you regain all the money you've lost on the Olympics (so far). Shares were up 9.0% as a result.
ViacomCBS ($VIAC) – In case you thought Cable TV was dead, ViacomCBS is here to prove you wrong...and right...kinda. The owner of channels like CBS and MTV and newly released streaming services PlutoTV and Paramount+, reported a not-so-bad quarter. Revenue beat expectations while EPS came just short. Paramount+ hit 42 million subscribers after adding 6 million this quarter and announced a release in Europe through Comcast-owned Sky. Yesterday's 7.1% gain shows a lot of optimism, but as the streaming wars rage on, keep your eyes peeled for casualties.
UBER ($UBER) – Breaking news: Uber is still really, really good at setting money on fire, as they lost a lot more than expected this quarter. Given the firm is 12 years old and still makes no money, it's really not cute anymore, but shares still managed to surge 3.0% yesterday. The Bezos-esque "do it all" approach seems to be generating more excitement than the pain coming from lost dollars. Despite a decreasing number of drivers largely driving outsized losses, price targets increased, hovering in the mid-70's.
What's Rotten
Etsy ($ETSY) – Etsy ate it yesterday. Shares plunged 9.7% on a sus earnings call that widely disappointed, despite decent growth numbers. It wasn't going down alone though, as competitor eBay dropped 3% immediately at the open, in advance of their earnings call next week. Revenue slightly beat but stayed in range. The firm declined to provide full year guidance, which seems like their way of saying "The pandemic was our best catalyst ever and now we're screwed."
Advanced Micro Devices ($AMD) – AMD has been getting shoved up, down, and all around as of late, likely due to its growing popularity on r/WSB and other forums. We've learned garnering this kind of retail attention can be a blessing and a curse. As the Xilinix merger rolls around, many have spotted an arbitrage opportunity in the target's discounted shares. Shares dropped 5.4% yesterday.
Itron Inc. ($ITRI) – Alright, fine, everybody calm down, we'll tell you about those energy and water resource management companies you've been dying to hear about. For one, things are not so hot, and that one is Itron. Falling 26.4% yesterday on lower than expected revenue and EPS (by a lot), underwhelming guidance did not help at all. Adding fuel to the fire, revenue was slightly more than 3% lower than this quarter last year.
Macro Monkey Says
Debt – Imagine being so scared of equity market risk, that you happily accept an instrument that allows you to pay someone else to take your money. That's the state of $16.5tn worth of assets right now. As government bond yields have stumbled once again, more fixed income products fell into negative yielding territory. Historically, things have gotten pretty ugly when Germany and Japan team up, but now, both are faced with negative 10Y rates while approaching a record in negative yielding debt. Let's just hope Italy doesn't join them next.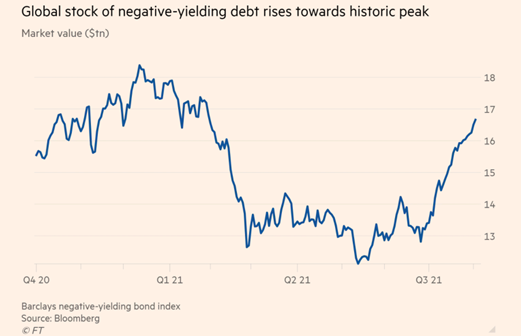 Food for Thought:
NFT's – Just like Jordan Belfort, NFTs aren't f*cking leaving. Volume and notional value for the...asset class?..., have both spiked lately. Collections like CyberPunks have rebounded, and others, such as Mila Kunis' Stoner Cats or Bored Ape Yacht Club, have garnered a lot of attention (and dollars). Gary V, that annoying business / marketing influencer dropped $3.7mm on a CryptoPunk, and later another "investor" shelled out over $6mm for a bunch of them. I know you guys were worried, but now we can rest easy knowing our virtual art, characters, or real estate are okay.
"The game of speculation is the most uniformly fascinating game in the world. But it is not a game for the stupid, the mentally lazy, the person of inferior emotional balance, or the get-rich-quick adventurer. They will die poor." – Jesse Livermore
Happy Investing,
Patrick & The Daily Peel Team
Was this email forwarded to you? Sign up for the WSO Daily Peel here.