Any thoughts on Permira? Noticed firm is raising an $11 billion fund.
Reputation, culture, hours, comp for US offices?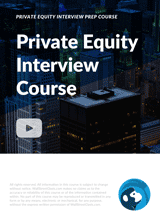 Private Equity Interview Course
2,447 questions - 203 PE funds. Crowdsourced from 750k+ members
9 Detailed LBO Modeling Tests and 15+ hours of video solutions.
Trusted by over 1,000 aspiring private equity professionals just like you.
Total Avg Compensation
April 2021 Private Equity
3rd+ Year Associate (66)

$267

2nd Year Associate (127)

$250

1st Year Associate (268)

$224

3rd+ Year Analyst (24)

$164

2nd Year Analyst (60)

$136

1st Year Analyst (172)

$117

Intern/Summer Associate (18)

$71

Intern/Summer Analyst (191)

$60