Private Equity's ATM | The Daily Peel | 10/27/21
Silver Banana goes to...

Market Snapshot
Earnings szn continues to propel markets, although more mildly yesterday, with big tech and other economically crucial companies presenting some solid numbers. The S&P gained 0.18% while the Nasdaq and Dow just barely moved, rising 0.06% and 0.04% respectively.
Cypto is back and hotter than ever! Check out Weiss Ratings' series on Crypto! They'll teach you how to pick the best cryptos, how to know when to buy or sell, and how to do it successfully on your own. Check it out before it's too late!
Let's get into it.
Macro Monkey Says
Financial Engineering - Paul Volcker, former Chair of the Federal Reserve, once expressed a belief that the only worthwhile financial innovation of the last 20 years was the ATM. He may have said that in 2009, but in 2021, private equity firms are ensuring that still rings true.
As their most recent attraction in financial scumbaggery, P.E. firms have loaded their portfolio companies with something called "dividend recapitalization debt." Basically, the P.E. firms will load up their portfolio companies with debt for the sole purpose of paying dividends to the company owners, who just so happen to be those same P.E. firms. I know, I couldn't believe this was a thing either. Rather than issuing debt or taking leftover capital to reinvest in their business and grow for the long term, P.E. firms are doing the most P.E.-thing you can imagine, turning their portfolio companies into ATM's.
Interest rates run the world, and it's no different here. In a time of negative real yields, craving for high-yielding debt is at all-time highs. This is one, certainly bold, way to get that allocation for investors and owners...regardless of how objectively scummy it is. I wonder why the rest of the world has a negative view of high finance?
New Home Sales - Am I the only one that's low key praying for a housing market collapse? Like c'mon man, I don't want to have to sell my kidney for the down payment.
Data around new home sales in September dropped yesterday and the market is still searing hot. Despite prices being largely at or near all time highs, people kept buying new homes, 800,000 of them, to be exact. Data for the month of August shows 740,000 new homes were bought, meaning that new homes sales continued to accelerate well past economist expectations of 756,000. The fat cash piles consumers are sitting on combined with low-rate mortgages really just create the perfect storm for pricing us youngins out of the market.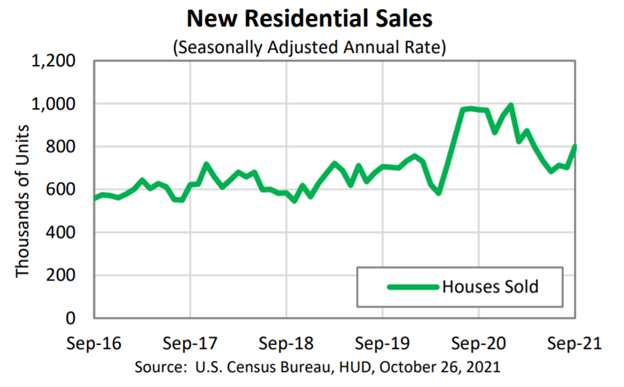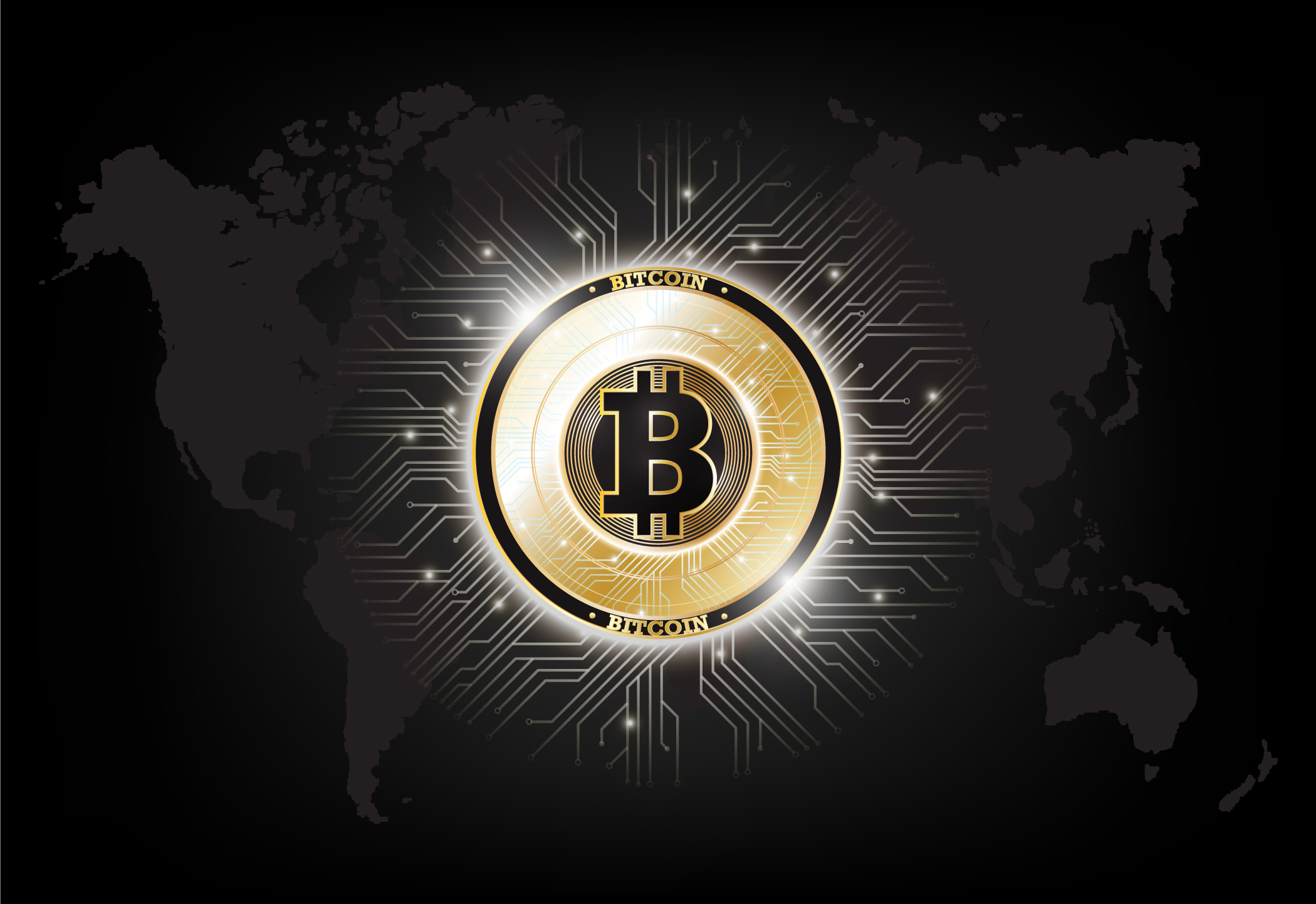 Weiss Ratings Founder Martin D. Weiss, PhD says we're now in the midst of one of the greatest crypto bull markets of all time, and never before has there been a greater need for education in the crypto world as right now!
Weiss Ratings is offering a three-part tutorial series that teaches you how to pick the best cryptos, how to know when to buy or sell, and how to do it successfully on your own.
What's Ripe
United Parcel Services ($UPS) - Earnings season continues full steam ahead, and UPS led the charge yesterday. In addition to delivering your packages, the firm also delivered a stellar earnings report for investors, props to anyone that's in both of those camps. Highlights include beating across the board with operating margin and projecting even better margin metrics in Q4 stole the show. This drove a 7.0% share price increase, leading the S&P for the day.
Draftkings ($DKNG) - Betting on betting stocks can be a risky...bet. But for Draftkings, that bet certainly paid off yesterday. Shares climbed 4.1% on news of the collapse of a planned merger with U.K. gambling firm Entain. We talked this over before, but as a reminder, the firms planned to merge and dominate transatlantic degeneracy in its purest form with a price tag of $22.4bn. Turns out, it's a no-go, Draftkings investors were pumped while Entain shares took a 6.2% spill.
What's Rotten
Lockheed Martin ($LMT) - When President Eisenhower left office, he warned against reliance on the military industrial complex. Lockheed's 1,700% return this century says otherwise, but judging by yesterday, you might think we're starting to listen to Ike. Shares of $LMT took a dive yesterday, losing 11.8% on declining YoY revenue that, at the same time, missed estimates. The worst part though, was the projection of lower revenue going forward, but of course, there's always the chance North Korea decides to test that.
Trump Stocks ($DWAC, $PHUN) - Markets were dWAC'd last week with former President Trump's announcement on challenging big tech, but I assure you, there was no phun to be had yesterday. The two tickers planning to help the former President challenge something like $8tn in market cap simultaneously, $DWAC and $PHUN, plummeted 29.6% and 39.3%, respectively. Two of the bottom three performers in the Nasdaq is an impressive feat, what was not impressive, however, were Trump's actual plans for operating the firm...as you can see by the falling-off-a-cliff yesterday.
Thought Banana:
Big Dawg Earnings - $4.1tn worth of market cap reported earnings after-market yesterday - and that was just two companies. Let's take a look.
Alphabet: Alphabet shares were a little confused after hours. The firm reported a beat in revenue, registering a monstrous $53.6bn and earned $26.09 per share on that, beating on this metric as well. Despite social media's struggles with ads lately thanks to Apple, Google is still killing it and could even be a beneficiary. The confusion, however, comes from slowing growth in two of Alphabet's most important segments - Cloud and YouTube. Both segments missed on revenue, and cloud in particular was quite a disappointment.
Microsoft: Meanwhile, Microsoft was practically firing on all cylinders. Revenue jumped 22% to $45.3bn, beating expectations, while earnings also sizably beat, coming in 31% above expectations. Additionally, we may have found the culprit for Google's slowing cloud business, because Microsoft's Azure division absolutely kicked ass, rising over 36%. However, in a $2.3tn firm, there's never a time where everything is working. Microsoft's Xbox division underwhelmed on account of - say it with me now - supply chain issues.
All in all, big tech is still big tech, and quickly becoming even bigger tech.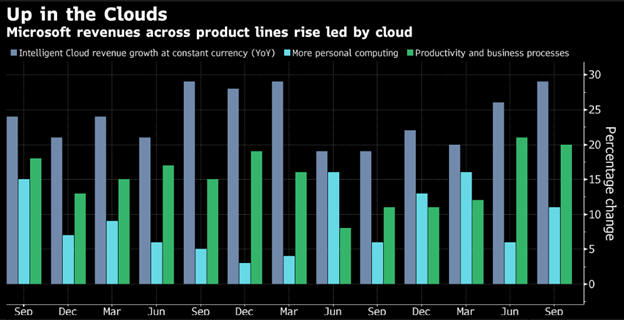 "The only thing to do when a person is wrong is to be right, by ceasing to be wrong. Cut your losses quickly, without hesitation. Don't waste time."
- Jesse Livermore
Happy Investing,
Patrick & The Daily Peel Team
Was this email forwarded to you? Sign up for the WSO Daily Peel here.